The choices we make in our lifestyles have a profound impact on the world around us. Each purchase we make and every unit of energy we use carries a global significance. Whether we are selecting everyday items or deciding on our energy sources, each choice initiates a chain of effects that reverberate widely. Recognizing these interconnected relationships emphasizes the crucial need to make decisions that benefit us individually and contribute to the well-being and future of the entire planet.
Our homes, the central spaces where we live, offer an excellent starting point for adopting a more sustainable lifestyle. Every aspect can be adjusted to align with eco-friendly principles, from the materials used in construction to the energy we consume.
Conserve Water
Photo by Liz Martin on Unsplash
Giving priority to water conservation is crucial. The critical challenge of water scarcity currently impacts 2.4 billion people residing in countries experiencing water stress. Extended periods of water stress can severely affect public health and economic development. It complicates agricultural practices and jeopardizes a community's ability to access food.
Reducing personal water usage in your household is an impactful way to make a positive change. Consider installing low-flow adapters on your faucets and showers, introducing air into the water supply to maintain pressure while substantially decreasing consumption. Another simple water conservation method is to choose showers over baths and aim to limit shower times to 4 minutes or less. Running taps can waste up to 6 liters of water per minute, so turn off the tap while brushing your teeth. When rinsing vegetables or fruit, use a bowl of water to minimize water usage. Also, remember to routinely check your faucets for leaks under the sink or drips when the tap is fully off.
Utilize Solar Power
Photo by Mischa Frank on Unsplash 
Some governments and organizations actively promote the widespread embrace of solar energy by offering incentives and subsidies. Recent advancements in solar technology have made it more accessible and cost-effective for homeowners. The incorporation of solar panels into homes holds the potential to significantly reduce reliance on traditional energy grids, mitigating the environmental impact associated with electricity generation from fossil fuels.
Upgrade to High-Efficiency Appliances
Aligning with global initiatives that promote sustainable energy practices, investing in ENERGY STAR-labeled modern appliances offers long-term benefits for your wallet through decreased energy consumption. This contributes to the broader push for energy efficiency. Moreover, these appliances often feature advanced functionalities that enhance performance and minimize resource usage.
Choose Thoughtful Building Materials
Continued reliance on conventional building materials over an extended period significantly harms the environment. These materials deplete finite resources and contribute extensively to pollution. The processes involved in obtaining, manufacturing, and transporting these materials generate substantial carbon emissions, exacerbating the challenges of climate change. However, a positive change can be achieved by opting for environmentally friendly alternatives. 
For instance, reclaimed wood offers a second life to timber from old buildings, reducing the necessity to cut down more trees. Bamboo, a fast-renewing resource known for its strength and versatility, provides a durable and sustainable alternative. Using recycled steel reduces the demand for new metal production, resulting in lower energy consumption and minimizing the environmental impact of mining. These eco-friendly choices contribute to a circular economy, which encourages the reuse, repurposing, and recycling of materials, reducing waste and alleviating the strain on landfills.
Cultivate Sustainable Landscaping
Selecting native plants that thrive in the local climate and require minimal water and maintenance supports local ecosystems and biodiversity. This choice helps alleviate the adverse impacts of traditional landscaping practices, often involving chemical fertilizers and pesticides, which can harm the environment, water quality, and human health.
To enhance ecological balance, consider transforming your garden into a bee-friendly zone, fostering pollination for your plants. Installing bee boxes allows you to cultivate live queen honey bees and start colonies, playing a role in preserving these vital pollinators.
Installing rainwater harvesting systems for irrigation further reduces reliance on municipal water sources and decreases the energy-intensive water treatment process. Additionally, creating compost from kitchen and garden waste minimizes reliance on synthetic fertilizers and provides nutrient-rich organic matter for your plants. 
Smart Home Technology
Photo by Moritz Kindler on Unsplash 
Integrating smart home technologies like thermostats, lighting systems, and automation enhances homeowners' energy monitoring, leading to reduced resource usage and a more sustainable living environment. Smart thermostats adapt to daily routines, optimizing heating and cooling for comfort and energy savings. Lighting systems with features like dimming and scheduling significantly cut electricity usage. 
You can also incorporate LED lighting into your smart home technology. LED lights use substantially less energy than traditional incandescent bulbs, providing an eco-friendly lighting solution. Additionally, LEDs boast a prolonged lifespan, diminishing the need for frequent replacements and establishing them as an intelligent and sustainable choice for residential and commercial applications. The broader adoption of smart home tech contributes to environmental benefits, lowering the collective demand for energy and reducing environmental impact.
Explore Upcycling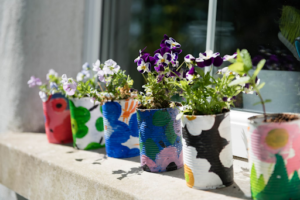 Photo by Julietta Watson on Unsplash
Upcycling is a creative and environmentally friendly practice that involves repurposing discarded or old materials and transforming them into new products with improved quality or value. This method surpasses traditional recycling by enhancing the original materials, increasing functionality or aesthetic appeal while minimizing waste.
A diverse array of materials offers ample opportunities for innovation and artistic expression in the realm of upcycling. Take furniture, for instance; it can be revitalized by refurbishing or repainting old pieces, imparting a fresh and modern aesthetic to your home decor, or adding a unique touch. 
Clothing upcycling entails reimagining and altering old garments to craft new, stylish pieces. This may involve repurposing old jeans into trendy shorts, transforming oversized shirts into fashionable dresses, or combining various fabric scraps to create one-of-a-kind accessories. 
Everyday items, too, can undergo upcycling transformations. Consider repurposing old jars and containers into chic storage solutions or decorative pieces. Discarded wooden pallets might discover new life as garden furniture or imaginative wall displays. The possibilities are expansive, limited only by one's imagination and a commitment to sustainability.
Initiating Change at Home
Protecting our planet begins with individual efforts, starting right in our homes. The decisions we make daily have a ripple effect worldwide, and each sustainable practice we adopt contributes to mitigating the impacts of climate change over time.