With the latest claim about Lil Baby Kids, the rapper is in the news, making his fans search about how many kids does Lil Baby have.
If you are unaware of the controversy, recently, a woman with an Instagram account named Shi Anderson posted that Lil Baby is the father of her son.
Key Takeaways
Recently a women with a private account on the internet claimed to be mother of famous singer Lil Baby's son's mother?
However, the singer totally denied and said nothing in return.
He is officially dad to two angles 'Loyal Armani & Jason Armani' with different girlfriends and eagers to make more babies.
Read complete story about Lil Baby kids
She used social media to post the claim and tagged many of the top famous blogs. In a post along with her child's photo, Shi wrote:
"I can't keep this a Secret any Longer!! @lilbaby Needs to come take care of his responsibilities! I'm not Bitter, my son deserves to know who his FATHER is! #Firstborn"
She added different photos of a child claiming, "Her son looks like Lil Baby, and that's why the rapper is the father of her son."
When fans saw such posts about their favorite celebrity, most simply declined the claim, saying the baby is not a lookalike of the star rapper, while Shi is just trying to seek attention through such claims and posts.
Shi Anderson responded again with a post,
We Not Hurting for No Paper… If I was Clout Chasing I would've been came out with the Trust! Mfas need to simply mind they business… n stay tf out Mine.! Dominique know Whts up Thts y he ain't tapped in."
Despite not trusting the statements put up by the Instagrammer, fans still went knowing how many kids does Lil Baby have.
Well, to answer all that and what does Lil Baby says about it, here is complete content.
Does Lil Baby Have Kids?
Yes! Lil Baby is often seen with his sons and keeps posting about his little champs. It shows that Lil Baby acknowledged the paternity of his biological children.
However, the rapper is not married, and the mothers of his children are different. He has been in many relationships previously with celebrity colleagues and others.
Read => How Doja Cat Earned a Model Figure
Although the celebrity is not dating anyone, the list of his ex-girlfriends is still quite detailed.
Lil Baby has dated Bernice Burgism, Jayda Cheaves, Ayesha Howard, and Alexis Sky. While Teanna Trump, model Heather Rose, and Slim Danger are also on the list of women Lil baby dated.
But does he have kids with all of his intimate relationships? Nope. Then what is Lil Baby Baby Momma's Name, and how many kids does Lil Baby have? Let's find out:
How Many Kids Does Lil Baby Have?
Dominique Armani Jones, aka Lil baby, paternally acknowledges two boys as his sons. He has officially confirmed this. One is 6 years old while the younger one is 3 years old.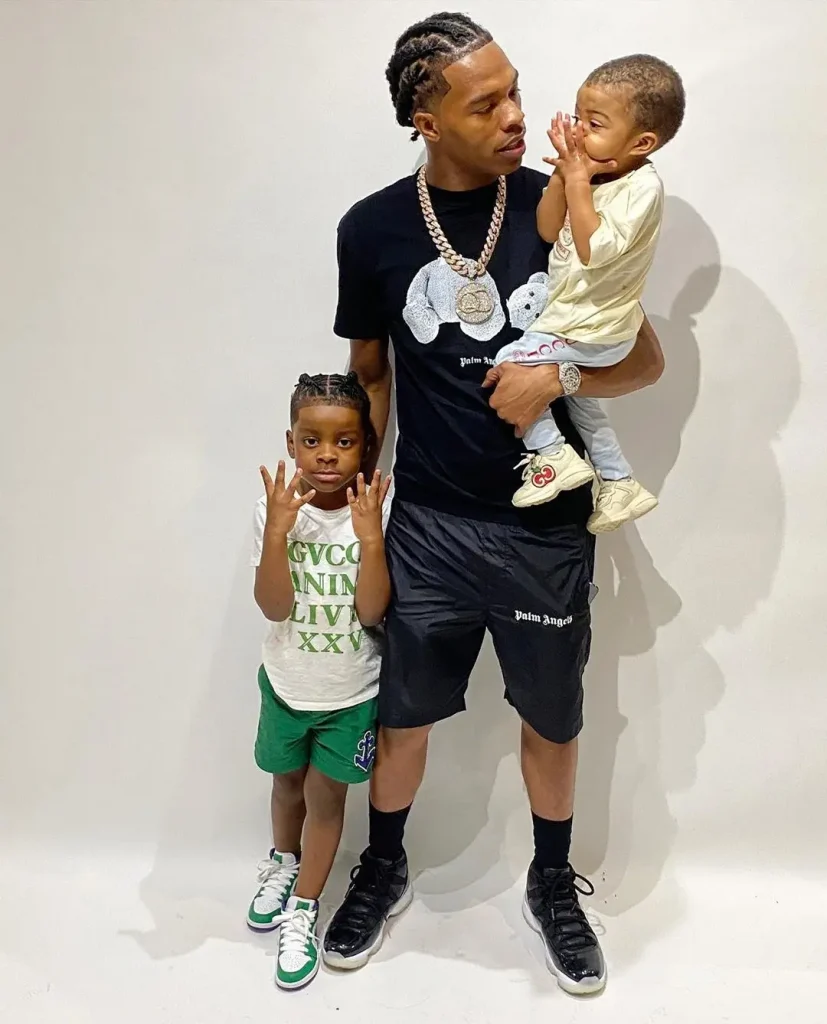 Is Lil Baby married? No! The rapper is not married and has sons with his ex-girlfriends. The mothers of both his kids are different.
Find more on Lil Baby Children in the lines coming ahead:
What are Lil Baby Children's Names?
Lil Baby kids' names are Loyal and Jason. Jason is the elder one and was born in 2016 to her former girlfriend.
After the couple broke up, Lil Baby welcomed another boy in 2019 with his new girlfriend. However, the rapper parted ways with the mother of his second child later and right now dating nobody.
Stay tuned; there is still more to come on how many kids does Lil Baby have:
How Old is Lil Baby Kids?
Jason Armani was born in 2016, and right now, he is 6 years old, while Loyal Armani is 3 years old, with the year of birth as 2019.
More => Priscilla Block weight loss fake or true?
Both kids live with their father, Lil Baby. However, Lil Baby never stops children from meeting their mothers. The Internet is often bombed with adorable videos of Lil Baby children.
In one viral video, Jason Armani can be seen teaching something to his little brother Loyal Armani while in another video, Loyal Armani can be seen calling his mother means.   
What is Lil Baby Baby Momma Name?
Lil baby kids are from different mothers. Jason Armani is from his former girlfriend, Ayesha Howard. The couple dated for two years.
However, the relationship came to an end after Jason was born. Ayesha Howard bragged about going through emotional trauma and having emotional scars due to dating Baby Daddy.
However, the couple is on the same page regarding loving their son. Ayesha Howard keeps posting pictures of his son on her Instagram.
How many kids does Lil Baby have? Two. The second son Loyal Armani is from Jayda Cheaves, a model who is famous for dating Lil Baby. The couple welcomed Loyal on 18 February 2019.
In an interview, Jayda said that she and her former boyfriend rapper met in Atlanta and were together for 6 years. However, it came to an end when Jayda accused Baby daddy of cheating on her.
They both exchanged some posts taunting each other where Jayda acted as a victim while Lil Baby showed off that no one can play with him like this.
Does Lil Baby have a baby on the way?
Lil baby is currently single and not dating anyone. He has been in a relationship with Jayda Cheaves and has a son with her. However, there is no official news if Lil Baby is chasing anyone after that.
Also, after the Loyal Armani was born in 2019, Lil Baby announced nothing if he is expecting another baby.
Nonetheless, recently, an Instagrammer posted that his son is Lil Baby's lookalike, so he is the father, and she is posting this just to tell her son about his father.
Lil baby made no response to this post and said nothing. Besides, his fans also didn't believe what that woman claimed.
However, it turned on research about Lil Baby children, like how many kids does Lil Baby have. It seems that the rapper has always been quite open about his life and never tried to hide his hookup and breakups.
What Does Lil Baby Say About His Kids?
He openly accepts his two sons with former girlfriends. He not only acknowledges their paternal ship but, in an interview, revealed that he plans to have more children.
He said that he was the only son of his parents. As a youngster, he might have some different thoughts, but with age, your thinking changes said the rapper.
Lil Baby said that whatever he is doing is for her kids. He wants to have more kids because, being a single child, he has to take the legacy, and the more children he will have, the more helpful it will be for the family legacy.
FAQs
Here are some frequently asked questions regarding how many kids does Lil Baby have you sent us at lookbroad.com:
Does Lil Baby Have kids By Jayda?
If we say Jayda Cheaves is the on and off girlfriend of the rapper, that won't be wrong. After the couple broke up, they again made to the news when Lil Baby shared her dance.
Also, with Jayda, he has been in a relationship for 6 years and has one son, Loyal Armani, with him. The couple welcomed the son in 2019 before officially breaking up.
Does Lil Baby have 3 kids?
No. The Grammy Award-winning rapper claims to be the biological father of two sons. His kids' names are Loyal and Jason. Both use the surname Armani. He has acknowledged paternity with Ayesha Howard and Jayda Cheaves.
How many sons did Lil Baby have?
Lil baby has two sons. Jason Armani (2016) is the elder, and Loyal Armani (2019) is the younger one.
How long have Jayda and Lil Baby been together?
Although Lil rapper remained silent on the fact, in an interview with Hollywood Unlocked, the former girlfriend said that he and the rapper were together for almost 6 years.
What rapper has the most kids?
The number spot for the rapper with the most kids goes to DMX. He passed away in 2021. He was married to Tashera Simmons from 1999 to 2014. The couple had four kids.
However, in total, DMX had 15 children before his death with different girlfriends.
What is Jayda Cheaves famous for?
Jayda Cheaves has worked in different music videos, and some famous are Close Friends" and "Catch the Sun." However, the main reason Jayda is recognized is dating Lil Baby, the American rapper.
Bottom Line
We hope you will have a complete idea of how many kids does Lil Baby have. He has two sons with two different girlfriends.
In our discussion, we have tried to cover Lil Baby Children completely. We discussed the ages of his children, their mothers' names, and the names of the kids.
However, if you still have queries, feel free to write to us. Also, please send us your precious feedback to help us improve and bring you better reads on celebrity lives.