You are here to learn about how much Creatine should you take a day, so we hope you have a complete idea that Creatine's excessive or minimal dosage than requirement might have unseen and unsaid side effects on the health.
Great! We appreciate your knowledge, but let's get into a little more detail about what is Creatine used for and why it has created so much hype over the internet.
Key Takeaways
Creatine is a miraculous compound and not an illegal supplement.
It is used to boost strength, increase lean muscle mass, and prohibit muscle damage during exercise.
Minimal dosage than requirement can have unseen and unsaid side effects on health.
Creatine dosage varies from one person to another based on their purpose of taking.
Experts recommend that the amount of Creatine is directly proportional to your muscle weight.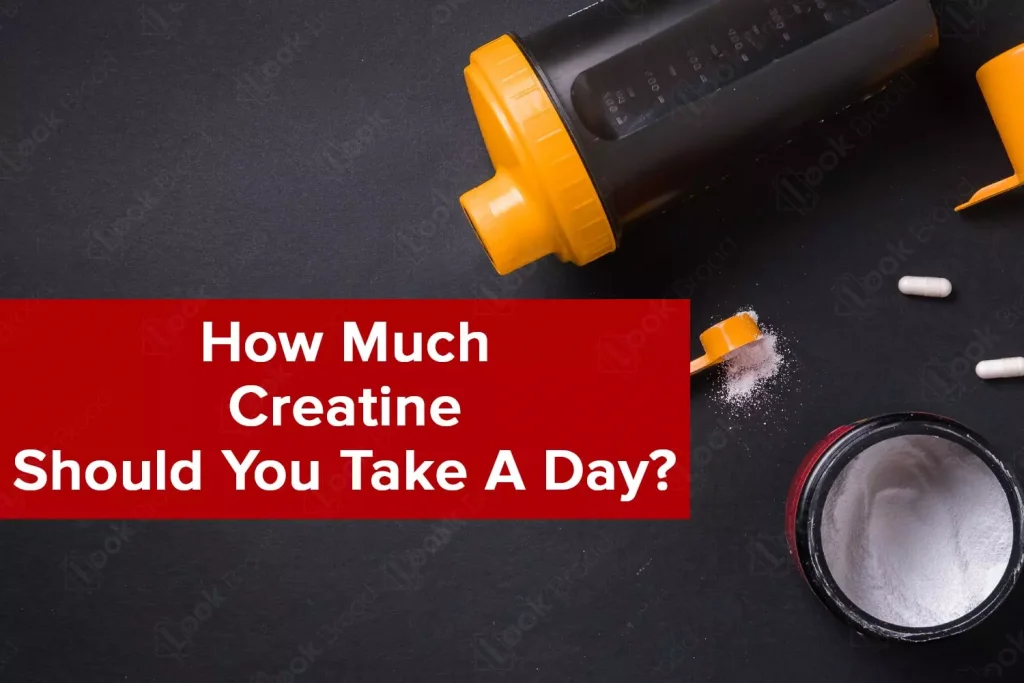 What is Creatine Used for?
Creatine is a miraculous compound and not like illegal supplements used to boost strength, increase the mass of lean muscles, prohibition of muscle damage during exercise.
Creatine is used by athletes for speed and energy and by weight lifters during weight lifting or sprinting because of its strength-boosting factors.
What Makes Usage of Creatine Beneficial in the Long Run?
Is Creatine safe to take? Yes! Creatine usage has a dual purpose:
Strengthening your muscles

Making your body independent from producing Creatine, naturally.
It's all vegan and natural; however, some of its capsulated forms might contain bovine gelatin.
So its use, in the long run, isn't harmful."
You can say, Creatine benefits all, the athletes and the normal people looking to build some energy and be more mobilized and active.
It means Creatine is safe to take, but dosing matters because when you're losing weight or gaining muscles, even simple food needs proper dosage settings, and you need to follow an appropriate pattern of quantity when taking something. So, the same is the case with the usage of Creatine.
Now, to the main question; How Much Creatine Should You Take a Day? Here we will give you not only about Creatine dosage per day in digits but will tell you how can you measure the quantity without using the Creatine dosage calculator.
Besides, we will cover the side effects of taking too much Creatine and the benefits of Creatine when you are taking the proper quantity.
How Much Creatine Should You Take Daily?
It depends on the purpose you are taking Creatine for, such as muscle growth, muscle recovery, and stimulating growth hormones.
However, the quantity varies from one person to another based on their purpose of taking. For example, like a Sprinter, bodybuilder, or somebody novice who is just starting with creatine dosage a day, you cannot consume the same amount of Creatine.
Experts reveal that the amount of Creatine is directly proportional to your muscle weight. But do we know muscle weight???? Mostly not! So here you can go with your body weight.
You can divide your body per KG weight with 130-160 MMOL creatine to find out the dosage.
So here are some formulas to configure how much Creatine is safe to take on a daily basis:
How Many Grams of Creatine A Day?
We, usually, aren't used to moving and doing physical activities. However, the less physically active we become, the less amount of glucose our body produces. This decline makes us even lazier and work-shy, and hence we become more prevalent to obesity.
So, the Creatine can bring back all that energy into your body by creating room for more Creatine that will help you produce glut 4.
Are 5 Grams of Creatine a Day Enough?
So the creatine dosage calculator and some researchers say that
"20 grams of creatine per day will stop the decline in glut 4 means muscles will store energy and have more glucose even when immobilized for 5 days"
This 20 grams of Creatine will be further cut into four intervals to consume. So, in one day you will consume about 5 grams of Creatine per session and there will be 4 creatine sessions in a day.
3 Grams of Creatine per Day
No! Once you have started taking Creatine, you can decline the amount of Creatine per session to 3 grams. Hence,
After 5 days, the in grams consumption of Creatine per session will become 3 grams, which is the maintenance dose.
Why? Because your body will start producing Creatine itself.
How Much Creatine Should A Bodybuilder Take?
Here you need to understand some logic. First of all, 95% of Creatine is stored in our muscles and a large portion of that is stored in type 2 fast-twitch muscles fiber types.
What does that mean? It means if you have more fast-twitch muscles, you can create more Creatine. So, then you won't need to go with any more supplementing to build energy.  
As a rule of thumb:
A bodybuilder must start with taking 20 grams of Creatine per day and go with the same pattern for 5 to 7 days.
Make a portion of 5 grams of creatine in one session.
After 7 days, the maintenance dose of Creatine will decline to just 2–10 grams per day.
How Much Creatine to Take During Loading Phase?
What is the loading phase? The loading phase is a period when you are preparing your muscles to conceal energy for later usage.
The phase usually occurs before a big event such as when a bodybuilder is having a match, a sprinter is expecting a race, or a triathlon is going to a competition.
5 to 7 days prior to the intense endurance event, they need to start building room for more energy to compete and win.
Research revealed that subjects who have consumed 20 grams of Creatine a day, for five days, prior to the intense event, showed significantly less biomarkers after the event.
In other words, they were less tired, had less injured, and remain super energetic even after the tough games.
How Much Creatine for Recovery?
What is recovery mode and why it is important to take Creatine during this?
Recovery mode is the time period after an intense exercise or event when an athlete needs muscle recovery.
By enhancing the glucose levels and overall energy of the body creatine not only increases the strength of muscles but also rebuilds and recovers them.
Once again 20 grams per 5 days formulas are applied here to get through the recovery mode.
Side Effects of Taking too Much Creatine
Along with all the benefits of Creatine discussed above, does it have any side effects? It is a good question and a discussion on the usage of Creatine cannot be completed without it.
Creatine itself doesn't have any side effects because it is a natural substance already available in your body, you are just enhancing your body power by supplementing it.
However, more than the suggested quantity and abusive use of Creatine can bring adverse effects on the overall health of a person starting from minor issues like bloating and constipation it can lead to liver and kidney failures too.
So the side effects that can be seen with abusive use of Creatine are:
Kidney Damage

Kidney Stones

Bloating

Digestive Problems

Liver Damage

Weight Gain

Dehydration

Muscle Cramps

Abdominal Pain

Abnormal Heart Rhythm

Cardiac Arrest

Heart Disease

Diarrhea

High Blood Pressure (Hypertension)

Ischemic Stroke
To avoid this, you must never forget How Much Creatine Should You Take a Day. With proper usage of Creatine, no severe ailments are reported.
At the start, your body may take one or two days to get used to this new supplement; however, after that, you will see a great positive change in your overall health.
Nonetheless, it is not recommended that you increase the use of Creatine with time without taking a proper prescription and help from an expert physician or dietician.
Before ending here let us cater to some of your biggest confusions regarding Creatine via the answers to FAQs you sent us at https://lookbroad.com/contact-us/
Does Creatine Stunt Your Growth?
Directly, Creatine isn't a growth-increasing compound, so Creatine will not stunt your growth. However, it does help in helping you grow better by strengthening and repairing muscles.
On other hand, if you are talking about overall health growth and muscles growth, Creatine does help here.
Does Creatine Make You Taller?
Some people claim that Creatine does make you taller and adults in 19 to 20 years can increase their height using creatine.
However, it is recommended to get physically examined by doctors and experts before taking any decision. We do not support the abusive and non-precautionary use of supplements.
Should I Take Creatine Every Day?
Creatine is recommended to take every day; however, the quantities vary. At the start when you are using it for muscle building 5 grams of Creatine is recommended to use while for maintenance, 3 grams are enough.
Do I Take Creatine Before Or After Workout?
Many experts support the usage of Creatine after a workout session because doing so, gives better results in increasing lean muscle mass and growing muscular strength.
However, if you have some digestive problems, taking Creatine before a workout is more beneficial because, in this way, it will get digested faster and better.
What Happens If I Stop Creatine?
There are no prolonged side effects if you want to stop taking Creatine. For the first two weeks, you may experience fatigue and a low energy level.
However, after 1 to 2 weeks, your body will start depending upon its natural energy and you will become all right.
However, it is not recommended that you become habitual of taking Creatine on some days and then leaving for the others – do not make it a pattern.
Final Words
The main and sole purpose of our content creation is to share information with our readers and cater to the confusion occurring in their minds by bringing the best information from authentic sources.
However, you are suggested to consult your personal experts before taking any decision on the dosage of Creatine and how much Creatine you should take a day.
Before leaving this page, do send us your feedback by commenting below and bookmarking our site to never miss any interesting updates.