Is soup keto friendly? If yes, what can be the best low carb canned soup options one can buy to enjoy a ready-to-eat keto-friendly diet?
Key Takeaways
Soups vary ingredient-wise. Having low-carb ingredients make a soup keto friendly.
When buying low-carb canned soups, check the label and make sure to look at macro and micronutrients both.
When eating, check serving size instead of the ingredients labeled.
You can buy low-carb canned soups from Kettle and fire, Miko, kitchen basics, and many other brands.
Being on a keto diet and not feeling confused about food and stuff are two different things.
When things go smooth on the keto journey, the concerns increase because we don't want to halt our ketogenic lifestyle!
To cater to these concerns, let us tell you about the good thing: soups can be keto-friendly but based on the ingredients. However, many other things count too.
So, here in this guide, we will tell you about the 15 best Low Carb Canned Soup and what tips to consider when looking to buy soups for the keto diet.
What to Look for When Buying Low Carb Canned Soups – A Checklist
Do not immediately go to the website, add a product to the cart labeled as keto, and buy. NEVER!
Grab a paper and write the following points as you don't want to misspend your money or disturb your ketogenic process.
Now, make a checklist according to the following points and consider them whenever you go to buy a low carb canned soup
1.   Ingredients:
Yes, ingredients are the main thing everyone knows to look for when buying a ketogenic canned diet. The tip is, do not look for the labeled ingredients but the serving size.
Here is an example, if you see a low-carb canned soup marked with 6g carbs content, you might consider, wow, the best soup I need to buy is here – THIS IS WRONG.
You need to consider carbs per serving size, such as if you are eating three small cans of keto soups, you are actually eating 6×3= 18 carbs at a time.  
2.   Calculate:
The second tip is to get a calculator and do some calculations, for instance, how much sugar you can have on keto.
Calculate net carbs by subtracting fiber to know the actual number of carbohydrates that you are going to consume with soups.
Remember, the calculations can vary from one person to another, so calculate it according to your "specific" carb count when deciding on the product.
3.   Additives:
Even a low carb canned soup can be liable to have sodium and carbs (extra quantity). Look for any additives and ignore products with seasonings that might disturb your ketogenic process. 
4.   Learn Ketogenic Flavors:
Some ingredients are more keto friendly than others; for instance, broccoli has low carb content compared to rice, or mushroom soups are more ketogenic than bone broths with noodles such as pho.  
FYI: Avoid any canned soup with noodles, rice, beans, or potatoes as these are NOT KETO FRIENDLY.
So to make your calculations easy, try to find soup flavors with bone broths, cream, cauliflower, cabbage, or low carb vegetables.
Now, you have enough idea of what to look for when buying a low carb canned soup. 
We have also selected some top Low Carb Canned Soups that you can buy with confidence, keeping these points in mind.
Here you go with a list of 15 best low carb canned soups you can consume on keto.
Best Low Carb Canned Soup
Here we list the best soups for the keto diet to lose fat and enjoy on a keto diet. Make sure to check your macros before you feed on anyone.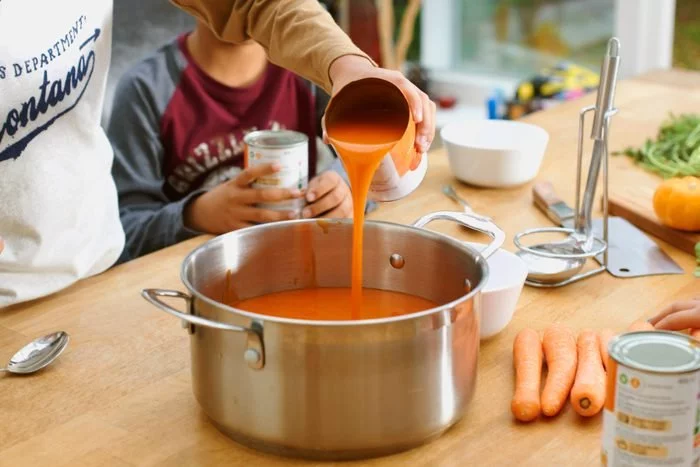 However, all these soups are based on the HFLC diet. So, here you go:
1.   Keto Soup with Bone Broth Variety Pack by Kettle and Fire:
With 4/5 ratings, here is the best low carb canned soup that's keto friendly and made with collagen-rich chicken wing bone broth.
Kettle and Fire soup contains less than three carbs and 4g net carbs, so even two packs will not kick you out of ketosis. The amount of sodium is also low.
2.   Miko Brand Freeze Dried Authentic Soup:
Made with keto-friendly ingredients, tofu, green onions, seaweed, and bean curd Miko presents ketogenic soup in dried form.
It is ready to eat; you have to do is to add one cup of hot water to one packet and enjoy the treat; yes, it is that easy.
3.   Kitchen Basics Turmeric & Ginger with Lemongrass Chicken Bone Broth Soup:
Turmeric and ginger are known as healthy healers and low-carb herbs with classic taste, so this low carb canned soup will be a wonderful treat for keto dieters.
One pack of kitchen basics soup gives you 10 grams of protein, but don't forget to recalculate per serving carbs and proteins according to your macros and never get kicked out of the ketogenic process.
4.   Swanson Sipping Chicken Bone Broth Cup:
Each Swanson sipping cup contains 50 or fewer calories, so you can call it a nutritious-rich on-the-go keto-friendly snack. The soup is delicious.
Made of chicken bone broth and non-GMO ingredients, the protein content is rich in this ready-to-eat microwavable soup can.
5.   Healthy Choice Chicken & Wild Rice Soup:
You may think that rice is not keto friendly, so this soup is a no-no. However, you can obtain the required content of carbs from Healthy Choice Chicken and Rice Soup.
Chicken added in it makes it a protein-rich, ready-to-eat snack for keto lovers. It can be a great treat for those with Keto flu or craving to munch something good while on a keto diet.
Best Soups for the Keto Diet
The list having top 15 low carb canned soups doesn't end here. We have some more soups for the keto diet that you can enjoy as snacks when craving to have something healthy to eat but based on LCHF formula.
6.   Keto-Friendly Organic Bone Broth by Pacific Foods:
This low carb canned soup contains organic chicken, turkey, and beef bones amalgamated with herbs and a touch of cider vinegar.
Cleaned and simple ketogenic ingredients are slowly simmered with herbs to give it an up-level taste. You can drink this soup by Pacific Foods as an evening snack or during brunch but keep the quantity small.
7.   Bear Creek Soup Mix, Cheddar Broccoli:
Beer creek soup mixes are available in many flavors, but one low canned soup that we mention here is cheddar broccoli because broccoli is a complete ketogenic vegetable.
Broccoli is the healthiest green to provides all necessary nutrients without high content of carbohydrates. Just check the labels and enjoy the treat.
8.   Low Carb Campbell's Soup:
Here we have Campbell's low carb soup. Many people ask if Campbell's cream of chicken soup is keto because the noodles are known to have increased carb content.
Therefore, we have brought you another flavor: Campbell's low carb canned soup made with sweet corn & roasted poblano. Enjoy this ready-to-eat treat without disturbing our ketogenic diet.
9.   True Primal Beef & Vegetable Organic Soup 8-pack:
With just 11 net carbs in a pack, this beef and vegetable enriched snack by True Primal make the perfect keto-friendly canned soup.
However, it might be a bit pricy and unaffordable for most keto dieters. Nevertheless, you can try it once and enjoy making one soup for yourself at home with the same ingredients.
10.   Progresso French Onion Low Carb Canned Soup:
If you are looking for one best low carb canned soups at a low price, Progresso French Onion soup is all you need.
The best thing about the keto diet is doing experiments with the recipes. So, while heating it, you can add some keto-friendly vegetables, such as roasted celery, to enhance the taste of your snack treat.
Best Keto Friendly Soups Canned
What makes a perfect low carb canned soup? Ingredients like meat, bone broths, cheese, broccoli, and low sodium content.
This is what our following list of best keto-friendly soups canned contains. Here you go:
11.   Progresso Italian Style Wedding with Meatballs Soup:
It has high carb and low-fat content but will be a perfect treat when you cannot resist your craving and have keto flu.
When considering this tastiest soup by Progresso on the list, do not forget to consider and recalculate your macros to know if it goes well with your keto diet or not.
12.   Health Valley Organic Vegetable Soup with No Salt:
Another low carb canned soup we have here is low-sodium vegetable soup by the healthy valley. This soup is best for vegan keto dieters looking for meat-free soups.  
It contains no meat and is made entirely with vegetables. Try this soup and thank us later for the suggestion.
13.   Amy's Gluten Free Chunky Vegetable Reduced Sodium Soup:
With 11 grams of net carbs, Amy's gluten-free chunky vegetable soup is tasty on a ketogenic diet.
The lower content of sodium and carbohydrates makes this soup a perfect thing to have a snack on an on-and-off basis when following a keto diet.
14.   Broccoli Cheese Soup (Pack of 12):
Broccoli and cheese are both keto friendly, so the soup can be a yes snack for the ketogenic diet. However, the higher sodium content makes it a no-no to have on a regular basis.
Therefore, check your macros every time you want to hand on this broccoli cheese soup.
15.   Campbell's Condensed Tomato Soup:
Campbell's condensed tomato low carb canned soup is made by using tomato puree, high fructose corn syrup, and wheat flour.
It has a low amount of sodium and enough vitamin A and C. So, for the healthy eaters, this can be a perfect low carb Campbell's soup treat.
Frequently Asked Questions
Before you go and grab your favorite low carb canned soup, consider the following questions.
Is soup keto friendly?
Yes! Soups, stews, and broths are perfect keto food. However, when it comes in the form of canned food, the sodium content can be higher (as to preserve the food for a longer period)  
However, low sodium keto soups are also available to buy. Make sure to check the labels before you get one.
Does soup have carbs?
The number of carbs in a soup depends on the ingredients and serving size. Vegetables, including broccoli with some pieces of chicken boiled in water, will have the lowest carb and high protein content.
However, check the labels and net carbs per serving when buying a low carb canned soup.
Can you eat soup on keto?
Yes! After a whole day water fast, to stay on ketosis, soups, stews, and bone broths are accessible and adaptable keto foods. Easy to cook and grab-able from the market, soups make perfect keto food.
If making at home, try adding low salt and more greens in the soup and check the content of the element when buying low carb canned soup.
Is cream of chicken soup keto friendly?
Chicken is a protein-rich food item, and so is its cream. It has the lowest carb content. However, the sodium content in the chicken cream is high.
Therefore, if you have blood pressure issues, you should avoid eating cream of chicken soup on the keto diet. You can try sour cream instead.
Bottom Line
We have added 15 soups to a low carb canned soup list. You can grab them from the market. Make sure to check labels before getting your hands on a product.