Keto dieters always count carbs and fat content when visiting restaurants or friends. While everyone is busy partying, Keto enthusiasts remain eager to find some high-protein low, sugar drinks and snacks.
We have brought you a list of healthy stuff at Starbucks, including high protein Starbucks drinks, Shakes, Coffees, and smoothies.
Key Takeaways
Do you know Starbucks offers diet shakes known as Starbucks protein drinks which are prepared by using non-dairy alternative milk?
Starbucks protein powder is prepared using whey protein, alternative milk, chicory root extracts, xanthan gum, and some natural flavors.

Starbucks protein shakes and drinks come in different flavors and textures, offering you energy to keep up during the day. 
Without a further ado, here you go with protein drinks at Starbucks you can try on your next visit:
Does Starbucks Have Protein Drinks?
Yes!
Kate Schenk, Starbucks regulatory and scientific affairs manager and a nutritionist, has recently decided to host high protein drinks at Starbucks.
For the first time, on August 14, Starbucks launched cold protein brews nationwide. These drinks come in different flavors and standard sizes to fill the protein requirement of customers.

"According to reviews, Starbucks protein drinks are based on non-dairy alternative milk and plant-based protein, and these high protein Starbucks drinks are best to keep you going throughout the day."
Here you go with some more details:
Starbucks Protein Powder Ingredients
We recommend you not believe the online guides or menus that recommend high protein Starbucks drinks without learning about the ingredients as a diet-conscious person.
That could be a marketing tactic.  Check the labels and ingredients first to ensure if high protein drinks at Starbucks are worth trying.
According to the menu, website sources, and experts high protein Starbucks drinks are made with:
Alternative milk

Whey protein

Chicory Root Extract

Xanthan Gum

Soy Lecithin

And some natural flavors
To be surer about what to eat or drink, you can ask the barista about the ingredients and check if they are okay for lactose-sensitive people.
Now to the list of drinks:  
High Protein Starbucks Drinks Made With Vegan Protein
These are 100% high protein Starbucks drinks checked for the ingredients and outcomes.
1.   Starbucks Almond Protein Blended Cold Brew:
When it comes to finding high protein low sugar drinks at Starbucks, Almond Protein Blended Cold Brew takes the top place.
Primary ingredients include vegan protein blended with a soft milk layer adding to the deliciousness of the brew.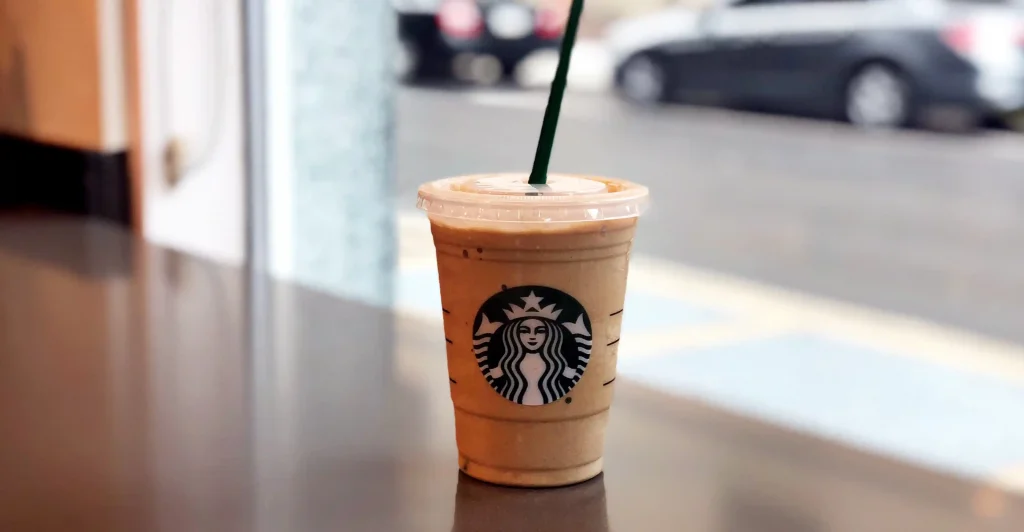 With the lowest 270 calorie count, it's undoubtedly one of the must-try high protein Starbucks drinks.
2.   The Flat White with 12 Grams of Protein:
For 12 grams of protein, the Flat White Drink is made with two ristretto shots, a thin layer of velvety steamed whole milk, and is cherished by a latte dot art topping.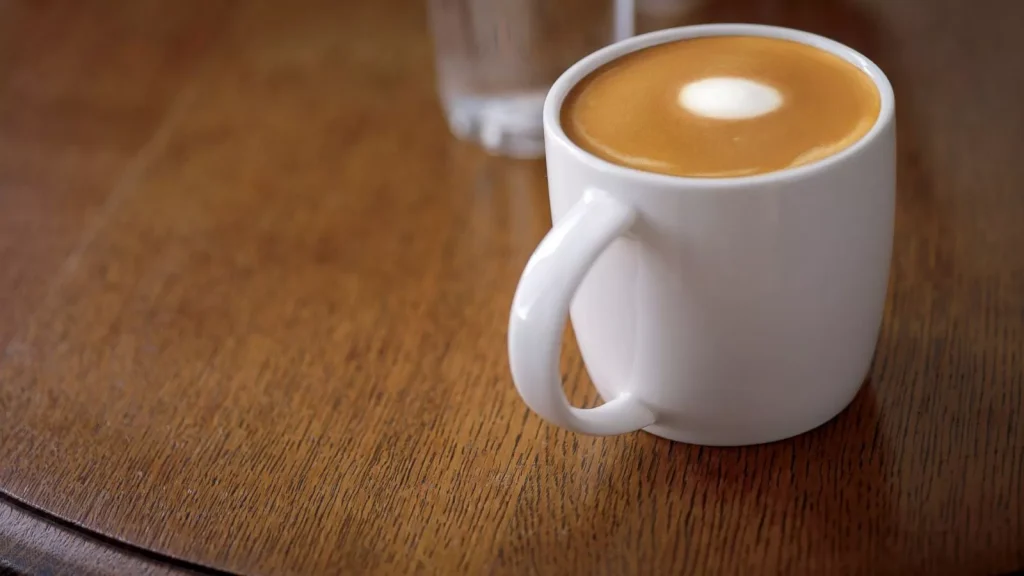 Thanks to ristretto shots, Flat White delivers a better exciting coffee flavor with a sweeter touch without adding calories or carbs. With enough ice in the cup, it makes a great protein cold brew at Starbucks.
3.   Cacao Protein Blended Cold Brew:
Serving 10 grams of plant-based protein for just $5.95, you get 16 Oz size in this high protein drink at Starbucks.
Blends all-vegan ingredients, including coconut milk, vegan protein, banana, date fruit, and cacao powder; the infusion serves the lowest calorie count.
4.   Latte Macchiato Protein Coffee Starbucks:
Those who love a thick layer of milk can go with Latte macchiato to enjoy high protein Starbucks drinks without disturbing their body ketosis.
It comes with a robust foamy coating of whole milk aerated and free poured and a slowly tipped espresso shot for the signature Starbucks dot art.  
It also severs12 grams of protein and is available in 4 different serving sizes.
5.   Pistachio Latte Starbucks:
For 12 grams of healthy plant-based protein, Starbucks offers cozy flavors of sweet pistachio with buttery brown topping topped with espresso shots and a thick layer of steamed milk.
The 16 fl. oz. serving size offers 320 calories, 45 grams of sugar, and 9 grams of fat.
High Protein Low Sugar Drinks Starbucks
Along with a great range of high protein Starbucks drinks, the restaurant also offers high protein low sugar drinks with an option to customize your brew according to your sole taste.
6.   Skinny Mocha with Only 170 Calories:
The entire drink is based on 28% protein with just 170 calories. What else should high protein drinks have? It comes with blends of skimmed milk, skinny mocha sauce, and espresso shots.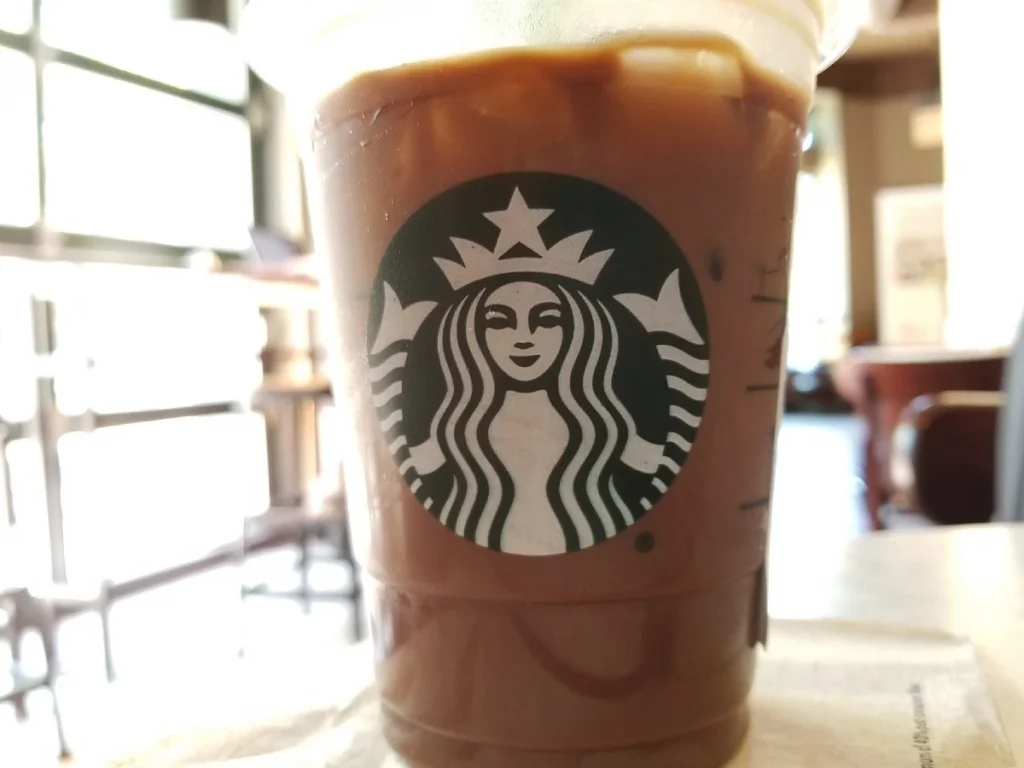 The skinny mocha sauce is processed with water, cocoa powder, alkali, Arabic gum, xanthan gum, sucralose, carrageenan, and a pinch of salt to help you Sip on the lighter side of sweet.
7.   Iced Brown Sugar Oat Milk Shaken Espresso:
Here is another best high-protein Starbucks drink with the lowest calorie count and made with ice, brown sugar, and oat milk: everything shaken with espresso blends.
The dash of cinnamon at the top makes it a perfect morning drink to zest your taste buds with the desired level of sweetness.
8.   Caffe Misto:
For those who like a flat layer of velvet on their drink rather than a dense one, go with Caffe Misto, one of our favorite high protein low sugar drinks at Starbucks.
The ingredients include hot coffee instead of espresso and boiled milk. Order it with skimmed milk and low-sugar content to make it fat-free. It is undoubtedly the perfect thing to sip on while on a protein diet.
9.   Iced Black Tea Lemonade:
If you are not in the mood for a colossal caffeine intake, go with this iced tea by Starbucks. You get blends of ice tea shaken with fresh lemonade for a perfect summer treat.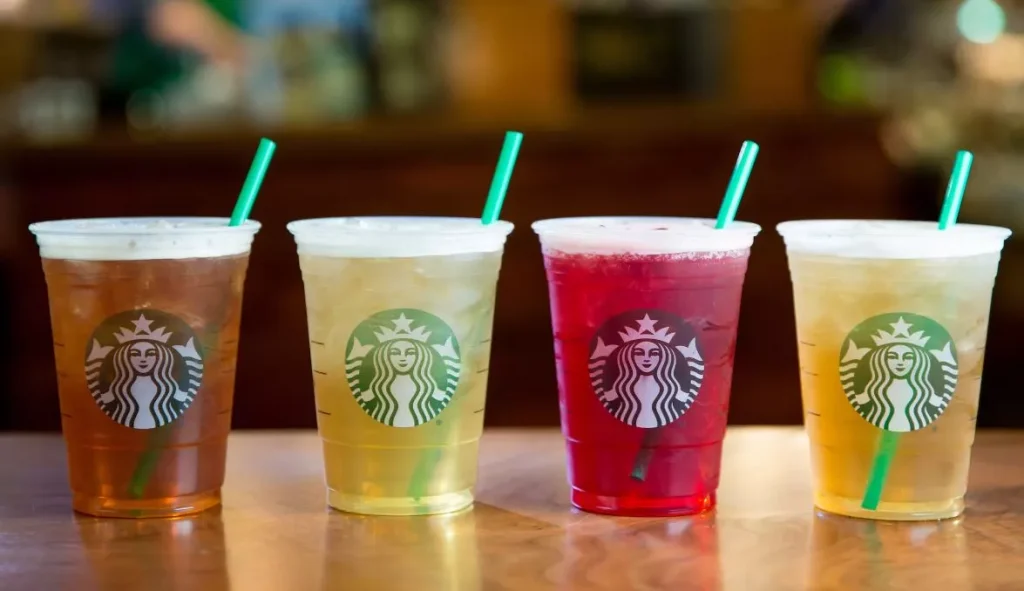 50 calories and 11 grams of sugar make a distinguished satisfying treat to enjoy during any time of the day at Starbucks.
10.   Espresso Frappuccino:
The tenth in the high protein Starbucks drinks list we have is the espresso Frappuccino blended beverage that comes in three serving sizes.
Espresso fusion with milk and ice offers a nice little jolt and satisfying sipping. Though the protein added here is 3 grams, the lower calorie content makes it a must-grab.
High Protein Drinks at Starbucks
For fruity blends and resonant zest, here is the list of beverages you can enjoy on a hot summer day to kill the heat and beat the temperature.
11.   Iced Hazelnut Bianco Latte:
If you are done with enjoying homemade protein shakes and want to try something new, the iced hazelnut Bianco latte is all you need to try.
Obtained by merging tasty hazelnuts with milk, sugar, honey, and ice, Iced Hazelnut Bianco Latte brings a pleasing surprise for your taste buds. Everything is mixed in a blender
12.   Protein Power Berry:
Kill the summer heat with the Protein Power Berry, one of the high protein Starbucks drinks made with all fruits.
It comes with sweetened and acerbic juices of strawberry and raspberry blended with vegan protein cream and citric acid for a tangy flavor. It offers 28 grams of protein in a 16 oz. serving.
13.   Caffé Latte:
A thick topping of protein-rich steamed milk enriched with dark-rich espresso, the Caffe Latte from Starbucks offers a surprise to your palate.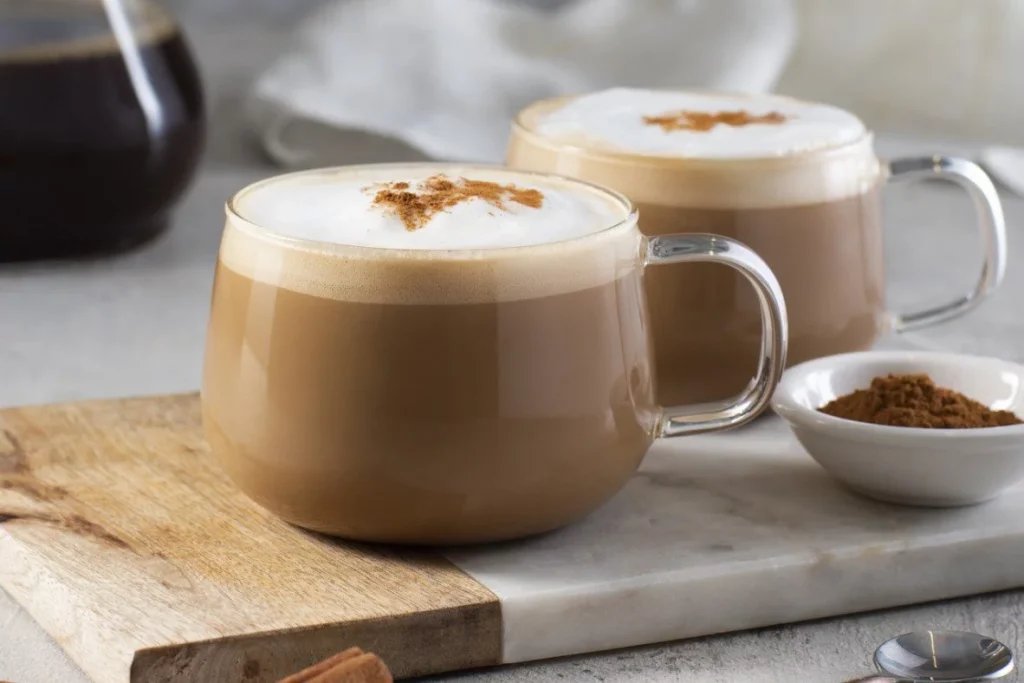 Starbucks Arabica coffee made with water and coffee extracts is blended with just 5 percent sugar to provide your drink with 12 grams of protein and low-calorie content.
14.   Iced Skinny Vanilla Latte (Grande):
Get your hands on the skinny latte with a vanilla zest for the lowest carb count and enough protein. It comes with absolutely no fat and 7 grams of protein.
You can call it the best Starbucks drink for weight loss.
15.   Blonde Vanilla Latte:
With ice and milk brewed together in a natural flavor of vanilla syrup, natural citric acid is added to the blend for a tangy zest.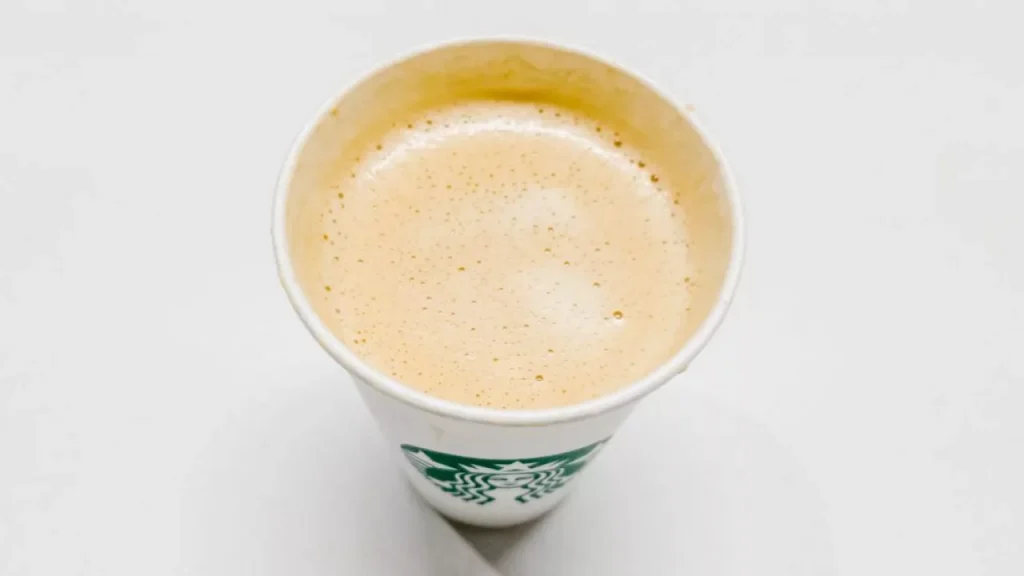 On the minor count of caffeine and carbs, the Blond Latte by Starbucks offers 7 grams of protein in total; it is one of the perfect high protein Starbucks drinks.
Best Starbucks Drink for Weight Loss
What should you order when trying to lose weight at a restaurant? By understanding the requirements of its customers, high protein Starbucks drinks are offered for those who want to lose weight.
No fats added, low carb content, and amalgams of protein ingredients, here is the list of best Starbucks drinks for weight loss:
16.   Mango Dragon Fruit Refresher:
Made with frozen dragon fruit pieces blended with mango and a concentration of white grape juice with sugar and water, Mango Dragon Fruit Refresher is all you need to kill the heat.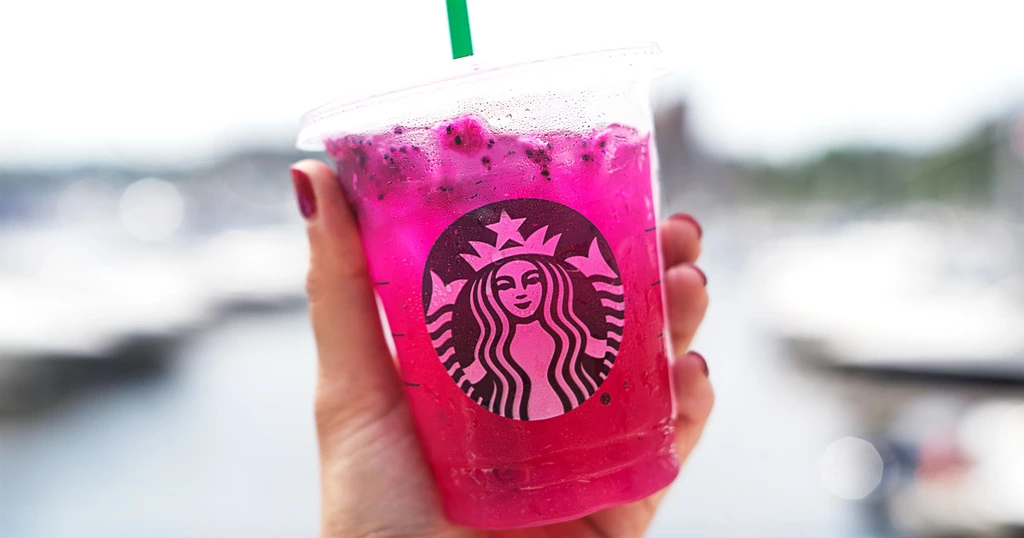 To make it a perfect morning brew with a tangy content, green coffee flavors and lemonade are added to this recipe. It contains only 15 grams of sodium and 150 calories as a whole.
17.   Peach Tranquility:
For the tranquil taste and perfect after-work treat, this low-calorie Starbucks drink for weight loss is prepared with the fusion of natural fruits blended with flavors.
Pineapple, apple, peach, and lemon pieces are used for the sweet and tangy taste. Rose hip peels, chamomile flowers, and artificial flavoring is added too.
18.   Strawberry Acai Beverage:
Acai is a berry-like fruit that comes with many health benefits. So the strawberry acai drink will be the healthiest on the menu.
White grape juice, citric acid, fruits, and vegetable juices are all blended with natural flavors and green coffee to give you the awakening cup of Starbucks drink for weight loss.
19.   Iced Tea:
You get many iced teas on the menu when it comes to searching for refreshing drinks at Starbucks. Though these drinks mostly have low protein content, but the calories added are also few.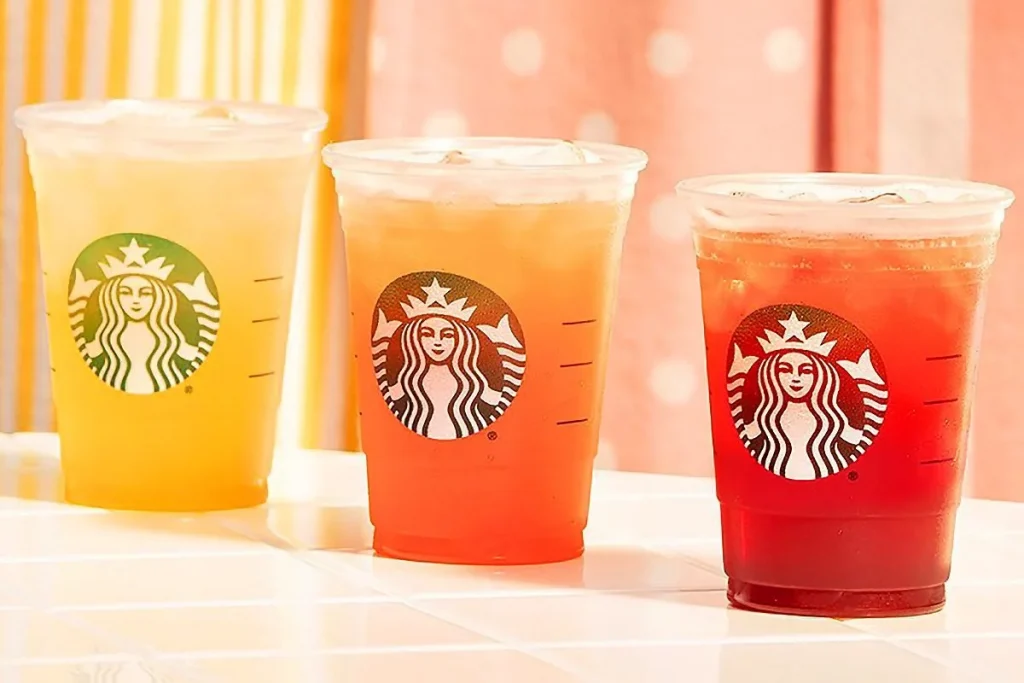 It makes Ice Teas at Starbucks excellent to have when you are looking to lose weight. You can also customize the brew to maintain your macros.
20.   Nitro Cold Brew with Cinnamon Oat Milk Foam:
Oat milk has a lower content of calories but more fats, so this will be one of the best high protein Starbucks drinks for weight loss.
Customize it by adding more splashes of oat milk to increase the protein content and remove the sugar to alleviate the calories.
Highest Calorie Drinks at Starbucks You Must Avoid
Restaurants are not just about healthy eating. To give their customers an irresistible taste, they add all types of stuff to the menu.
You just need to have a good idea about the drink's ingredients when ordering something with a low-calorie count and high protein content.
For this, ask the barista or the serving person about the highest calorie drinks at Starbucks and which drinks come with a low Cal-count.
Here we are enlisting the highest calorie drinks at Starbucks you must avoid:
Pumpkin spice latte

Hot chocolate smoothies

Caramel ribbon crunch Frappuccino
Frequently Asked Questions
Please, do not leave the page until you get the answer to the following questions sent to us by our Facebook community:
What drink has the most protein?
You will have to check the ingredients in the drink to find out of it is rich in protein and have low carb content.
Drinks made of soy milk, uncondensed milk, yogurt, and creams are high protein content. Make sure to consult the barista when ordering high protein drinks at Starbucks.
What kind of protein powder does Starbucks use?
Starbucks has recently added high protein drinks to its menu.
According to the nutrition expert and Starbucks regulatory and scientific affairs manager, Kate Schenk, they use only plant-based or vegan proteins in their drinks.  
They obtain Protein from vegan milk and the essence of beans, lentils, chickpeas, and more.
Bottom Line
We have added a list of 20 high protein Starbucks drinks you should try and 3 of the highest-calorie drinks at Starbucks you must avoid. Keep visiting us for more information.