Using fermenting diet and drinks is a new way to shed some extra fat without losing necessary body oils and letting your body suffer for essential nutrients – once such fermenting drink here is Kombucha.
Is kombucha good for weight loss?
You might have heard a lot about kombucha benefits in kombucha weight loss reviews. Still, there is not much information available on the internet regarding How to Drink Kombucha for Weight Loss.
Key Takeaways
Kombucha is fermented water having live microbes to increase the speed of weight loss. To fasten the fat loss:
Drink kombucha empty stomach
Add nutrition-rich fruits to the water
Do not exceed or decrease the recommended kombucha dose.
The best time to drink kombucha is during your breakfast.
To deal with that, lookbroad has brought yet another perfect diet guide on how to drink kombucha and the best time to drink kombucha for weight loss.
So without wasting any more time, here you go with a complete direction and tips on when to drink kombucha and how much:
How to Drink Kombucha for Weight Loss?
Kombucha is the elixir of life, a potion to live longer. Besides, it is also called a healthy replacement for diet cokes and soda drinks.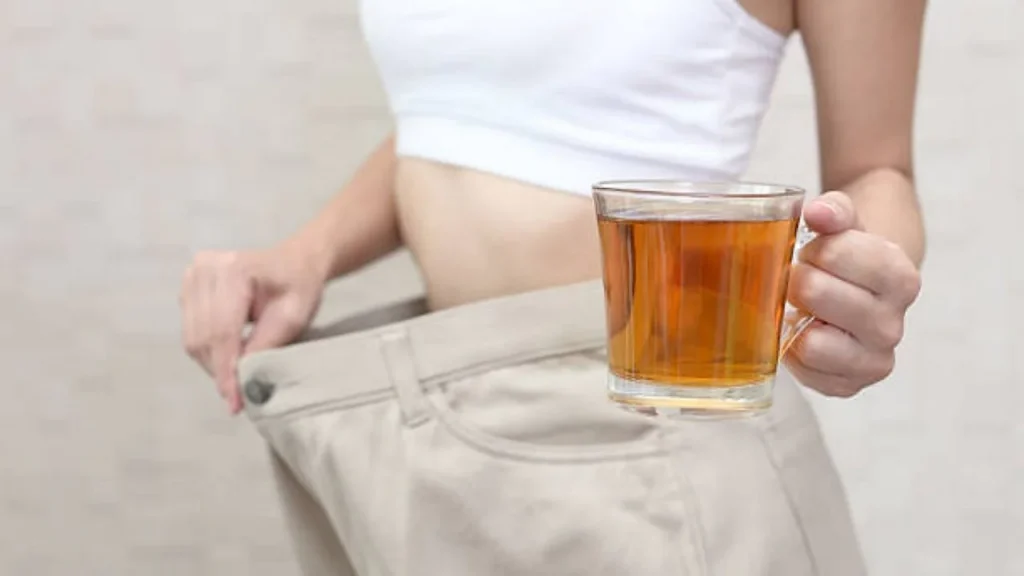 Here we are discussing the best way to drink kombucha for weight loss:
1.   Drink Kombucha Empty Stomach:
Many people ask, should you drink kombucha on an empty stomach? The answer is yes!
Kombucha is made of yeast enriched with stomach cleansing enzymes. It also contains caffeine. These things make it a fantastic low-caffeine alternative to coffee or tea.
 So, Kombucha can be a perfect drink to consume on an empty stomach when you wake up to balance your gut bacteria and aid digestion throughout the day.
It is said that drinking Kombucha tea empty stomach will help you digest everything you eat during the day faster.
2.   Use Plain Kombucha as a Fizzy Drink:
The second option for How to Drink Kombucha for Weight Loss is drinking it plain.
Once the kombucha is ready, you can drink it instantly without adding anything to it. It gives a perfect fizzy taste like soda.
Sugar is an important ingredient when preparing kombucha at home. The bacteria and yeast in it react with the sugar and diminish the harmful impacts of sugar without disturbing the taste.
So, you can drink plain kombucha as a sweetened fizzy drink without the fear of health issues such as obesity, diabetes, heart disease, tooth decay, etc.
3.   Add Fruits and Flavors:
Though kombucha gives you perfect taste when consumed pure, still, there is no harm in adding your favorite stuff to it.
So, one of the tastiest and best ways to drink kombucha for weight loss is by adding your favorite fruits to make a perfect meal to keep you full for a long time.   
Fruits that go well with kombucha are:
Cherries and almond extract

Blueberries and cinnamon

Strawberries and basil

Apple juice and cinnamon

Pineapple juice, coconut water, and coconut extract

Lemon or lime juice and fresh ginger

Berries and fresh or candied ginger

Pears and almond extract
4.   Keep with Recommended Kombucha Dosage:
To act upon the correct terms and ways of how to Drink Kombucha for Weight Loss is always following recommended kombucha dosage.
Experts suggest that one can consume 4-ounce Kombucha up to 3 times a day if bought from the market. However, if you make kombucha at home, you can drink 16-ounce every day.
Whether you feel a craving for a fizzy drink or simply using kombucha for weight loss, do not exceed the more than recommended quantity as it can raise the jeopardy of consuming too much caffeine and increase sugar intake.
Can drinking kombucha cause a yeast infection? Yes! Drinking too much kombucha can cause yeast and other bacterial infections too because it is made of yeast.
5.   Make It At Home:
Kombucha is readily available in bottled form at online stores and offline supermarkets. You can get this and make a perfect fizz using some water within no time – however, it can be expensive and a burden on your pocket.
Therefore, our first tip for How to Drink Kombucha for Weight Loss is making it at home. Why making it at home is the best way to drink Kombucha? Because it literally costs you pennies.
It will take around a week or 9 days to make kombucha at home, but it is worth the weight because after making it once, you can easily preserve kombucha in the fridge for 6 to 8 months.
We have given you 5 tips on how to drink Kombucha for weight loss. However, the discussion doesn't end here.
We need to know when is the best time to drink kombucha. Let's take the discussion to the next level.
Best Time to Drink Kombucha
You have prepared the perfect recipe for kombucha at home; all the ingredients, the aroma, and the color have perfectly appeared.
However, if you don't know the Best Time to Drink Kombucha, it might not help you with weight loss or the fitness goals you want to achieve.
6.   Kombucha for Breakfast:
Should you eat kombucha for breakfast? Yes! Kombucha is an excellent alternative to coffee or tea that you are used to drinking in the morning. The best thing is, it is low in caffeine.
Besides that, the digestive properties of this drink will aid in digestion throughout the day. So, early morning can be the best time to drink Kombucha.
Besides that, you can consume this drink from time to time to help your weight loss process.
7.   Kombucha at Mealtime:
Another best time to drink kombucha is during your mealtime. It can be your morning, evening, or lunch meal.
How to drink kombucha for weight loss during mealtime? You can drink it along with your meal as a drink. The great thing about drinking Kombucha with a meal is, it keeps you fuller for a long time.
"The best time to drink Kombucha is midday."
Sour and acidic drinks 15 to 30 minutes before the meal help lose weight faster. Therefore, it is suggested that instead of going with hard drinks and coke, you can consume fizzy beverages like Kombucha.
You can even drink kombucha tea after the meal instead of coffee or black tea.
8.   Kombucha at Night:
Kombucha can be consumed at night without any problem; however, only by those who can tolerate caffeine at night.
Though kombucha has a meager amount of caffeine, you might still have a hard time sleeping after drinking it at night if you have a low tolerance.
Otherwise, drinking Kombucha at night can help your body remove excess fat and toxins. It will also improve digestion and help in losing belly fat.
How to drink kombucha for weight loss? Simply as black tea.
9.   Kombucha Before Bed:
It is not bad to drink kombucha before bed. However, some people had difficulty sleeping after drinking Kombucha before bed.
Does Kombucha cause sleeplessness? No! Some people are sensitive to caffeine. So, even a meager amount can keep them awake through the night.
 In this case, it is better to avoid drinking caffeine before bed.
10.   Bottom of Kombucha:
Do you drink the bottom of kombucha?
It is not necessary for you to drink the bottom of kombucha. Many people confuse the fluid at the bottom of the kombucha with its essence.
It is not like that. If you have prepared kombucha perfectly, you will have some hard particles at the bottom. However, it is better not to drink that bottom part.
Frequently Asked Questions
We love to hear from you. Here are some queries and answers that people sent us from time to time.
1.   What does kombucha do?
Kombucha is the elixir of life. It helps with each and everything a person struggling with weight loss might need, including digestion, removal of body toxins, and energy boost.
Along with this, Kombucha has also been helpful in diseases and issues like blood pressure, heart issues, cancer, etc.
Kombucha is known to prevent cancer.
2.   Does kombucha help you lose weight?
It is suggested to drink kombucha when working out rather than drinking plain water. Why? Because the green tea extracts in kombucha boost the metabolism and aid in burning fat.
Kombucha also rehydrates and recharges your body after exercise and helps you lose weight fast. So, for those looking to shed some weight, kombucha is their ultimate weight-loss partner.
You just should know How to drink kombucha for weight loss.
3.   What are kombucha benefits for weight loss?
To lose fat from the belly and other parts of your body, the best thing is to restore your faster digestion process. Kombucha helps and benefits for weight loss are:
Combat body toxins

Boosts digestion

Keeps you fuller

Cuts down sugar intake

Cuts down caffeine intake

Boots healthy gut bacteria

Increases fiber

Replaces alcohol
Fizzy drinks help lose weight faster. You can say kombucha is your actually working shark tank weight loss drink.  
4.   Can you drink kombucha while fasting?
During intermittent fasting, yes, but keep the kombucha drink amount significantly less during water fasting. Before you go fast, you should learn all the rules regarding this. 
You should be well aware of the rules of water fasting, and the keto diet allows you to drink kombucha. Nevertheless, you can definitely break your fast using kombucha.
5.   Is it bad to drink kombucha every day?
No! According to the Centers for Disease Control, a person can drink four ounces of kombucha safely every day. It is homemade, one can consume 12 ounces a day.
6.   How many calories are in kombucha?
12 ounces of regular kombucha contains only 45 calories with no fats or protein.
7.   Is kombucha good for your stomach?
Yes! It is good for the stomach. Kombucha is a fermented drink that contains probiotic microbes. It helps in faster digestion, body cleansing, and toxic removal.
However, only if you know How to drink kombucha for weight loss.
8.   Can you have too much kombucha?
No! As excess of everything is bad, hence drinking too much kombucha is not permissible. You may gain weight due to increased calorie intake.
It can also cause yeast infection and digestive distress.  
9.   Can pregnant lady drink kombucha?
Pregnancy is the sweetest yet most cautious period of your life. Do not consume anything unless you are 100% sure.
Kombucha is not good to drink during pregnancy or breastfeeding period, just like it is not good to eat over easy or runny eggs while expecting.
You can go with making acai juice for a safe pregnancy drink.
10.   What are kombucha benefits sexually?
Men and women with higher estrogen levels can expect to maintain it after drinking kombucha tea. This fizzy drink is also known to increase testosterone levels.
It can also treat hormonal imbalance causing issues.
Bottom Line
Now you know how to drink kombucha for weight loss and the best time to drink kombucha. While drinking kombucha, make sure to keep up with the quantity to avoid weight gain, yeast infection, and other health issues.
If you have any more queries, do write to us and keep visiting us at Look Broad.