People are confused about Yakult vs Kefir benefits or side effects to understand which fermented drink is powerful and better to consume.
Key Takeaways
Yakult and kefir might be considered; however, both things are entirely different.
They are made with different ingredients.
Kefir contains 36 strains of bacteria, whereas Yakult contains just one.
Kefir is a more robust immune system booster than Yakult.
Yakult is easy to start with, while kefir can give you a challenging time.
Due to increased gut health issues, people have turned to natural healing remedies rather than allopathic drugs. These remedies refer to consuming good bacteria to support digestion through drinks like Yakult, Kefir, Actimel, kombucha, etc.
To understand which is more powerful and provides more benefits than backwashes, here is explicit content designed with Kefir vs Yakult ingredients, benefits, and other related details.
Without further ado, here you go with the details:
Yakult vs Kefir
Yakult and kefir are fermented drinks from dairy food with acidic traits that promote gut health. While comparing Yakult with Kefir, we found the latter to be advantageous over the other.
For your information: "Yakult is less appealing than kefir."
Kefir is named the powerhouse of nutrition because it contains some essential elements our body needs for gut health and boosts immunity, including vitamins, minerals, and other enzymes.
Despite being a fermented drink, Yakult has a different nutritional value and is less prolific than Kefir because it is made using non-fat milk and some harmful ingredients.
Let's compare the Kefir vs Yakult ingredients to get a better idea about which one is better and tastier.
1.   Yakult Ingredients vs Kefir Ingredients
These fermented drinks are made with diverse elements; however, milk is the only constant ingredient in Yakult and kefir drinks. The table explains Yakult vs Kefir ingredients.
Kefir vs Yakult Ingredients
Kefir
Yakult
Pasteurized milk (Of any animal)
Pasteurized nonfat milk (only of the cow)
Pectin (artificial sweetener)
Sugar
Vitamin D3
Glucose
Contains 36 different strains of bacteria

Lactobacillus Reuteri
Lactobacillus Lactis
Bifidobacterium Lactis
Lactobacillus Rhamnosus
Saccharomyces Florentinus
Lactobacillus Acidophilus
Streptococcus Diacetylactis
Bifidobacterium Breve
Lactobacillus Plantarum
Bifidobacterium Longum
Lactobacillus Casei
Leuconostoc Cremoris

Contains just one bacteria

Lactobacillus casei Shirota.
Looking at the ingredients, we can see that the most significant difference is the number of good bacteria both drinks contain.
Kefir, along with having no sugar and beneficial nutrients, contains 36 bacteria that, by reaching your stomach, play a more vital role in boosting digestion and other gut functions.
On the other hand, Yakult is high in sugar content and contains very few micronutrients. So, we can say Kefir is better to consume when it comes to comparing its ingredients with Yakult.
It is important to note that ingredients can vary via brands. It means all best kefir brands don't come with the same recipes, and so is Yakult.
2.   Kefir vs Yakult Nutritional Value
Although ingredients say a lot about the value of a drink, however, for a better understanding, we are explaining the nutrition you can expect by consuming both or any beverage.
Check this table for details:
Yakult vs Kefir Nutrition
Kefir
Yakult
Moderate sugar content
High sugar content
Less processed and made in natural manners
More  Processed that destroys even good bacteria
Rich in protein, vitamins, minerals, etc.
Shallow content of protein
Rich in the beneficial nutrients
Barely any beneficial micronutrients
150 Calories come from fats, carbs, and proteins
Low-calorie content mostly comes from sugar
Contains calcium even when made of water
Contains calcium when made with milk
Looking closely at the nutrients available in both drinks, while comparing Yakult vs Kefir, we found that Kefir has a detailed list of vitamins and beneficial nutrients.
For instance, Kefir provides about 10% Vitamin A, 25 % of Vitamin D, and 8% of daily intake of Potassium. On the other hand, Yakult doesn't come with such substantial nutritional value.
It provides calories that come from sugar while processed too much during formation that even good bacteria can get killed.
3.   Yakult Benefits vs Kefir Benefits
For your information, all probiotic and fermented beverages (having good bacteria) come with helpfulness for your body, especially the stomach and digestive system.
However, some drinks come with comparatively more plus points than others. Let's see the key benefits of Yakult vs Kefir and which will outbound the other.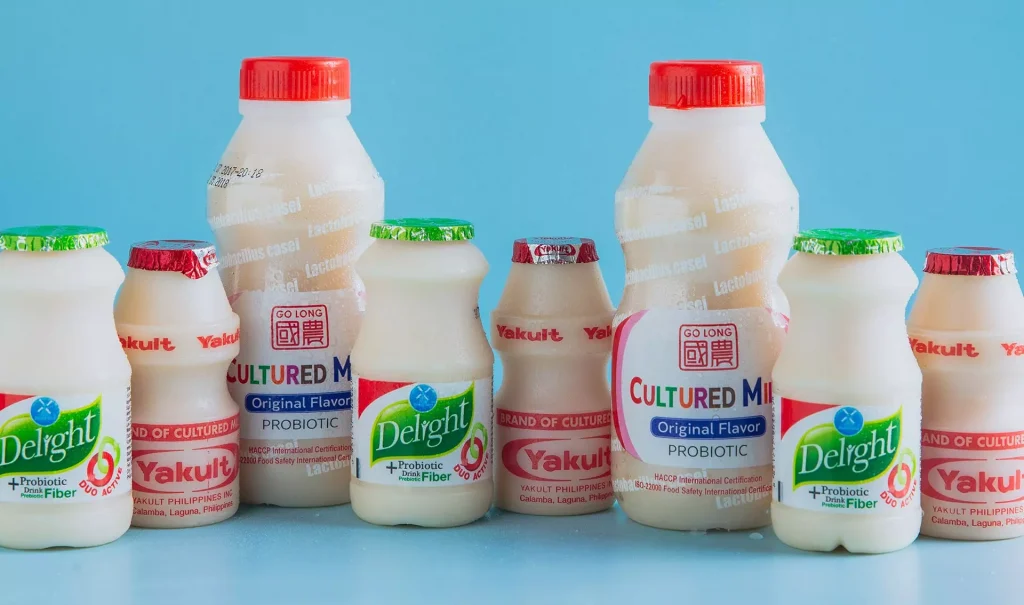 Digestive Efficacy:
"Kefir provides more digestive efficiency compared to Yakult."
Well, this is obvious that 36 different microbes will work more efficiently compared to the one available in Yakult.
What these bacteria do is help break down enzymes fully to use essential nutrients and easy excretion without the formation of gas or burning.
Probiotic drinks make the gut efficiency gets doubled.  
Boosted Immunity:
"Kefir is more powerful at boosting immunity compared to Yakult."
Good bacteria also work by powering up the body's defense mechanism. There are bacteria in our bodies that fight against diseases.
When you drink Kefir or Yakult, the fighter microbes in your body multiply and boost the body's immunity against diseases. It is even beneficial to ward off the immunosuppression caused by using steroids faster.
You will feel light by consuming such probiotic drinks.
Balanced Gut Health:
"Kefir efficacy is more than Yakult to balance gut health and regulate the digestive system."
 Many people suffer from digestion issues and problems such as gas, heartburn, GERD, gastritis, and acid reflux. Kefir is good for acid reflux, once again, due to the optimum amount of good microbes in it.
Yakult also contains the bacterium Lactobacillus casei Shirota, great at improving gut health. However, the calorie and suppressed nutrition content make it less significant than Kefir.
One glass of probiotic drink after a meal helps faster indigestion.
Improved Moods:
"Kefir is better at improving sleep and moods than Yakult as glucose in it can give a sudden burst of energy."
When your stomach health and body immunity is at their peak, you feel good overall. A feeling of relaxation helps improve your mood.
Such drinks before bed or after meals improve sleep, make you slumber peacefully through the night, and help you wake up fresh and active.
Difficult to Ingest at Start:
"Yakult is easy to digest even when you are breaking in the consumption compared to Kefir."
Digesting 36 bacteria at the start is difficult, so when you start consuming Kefir, it might upset your stomach. However, continuous use will remove this issue.
On the other hand, as Yakult is based on just one bacterium, it is easy to digest even at the start. However, the other micronutrients can be less beneficial.
4.   Best Time to Drink Yakult vs Best Time to Drink Kefir
The consumption of Yakult vs kefir also differs. Yakult doesn't come with any consumption prescription, meaning you can eat it anytime at night.
Contrarily, Kefir comes with a proper prescription and is advised to make it the first drink of the day and to consume it empty stomach. You can also consume kefir after meals or if you suffer from acid reflux.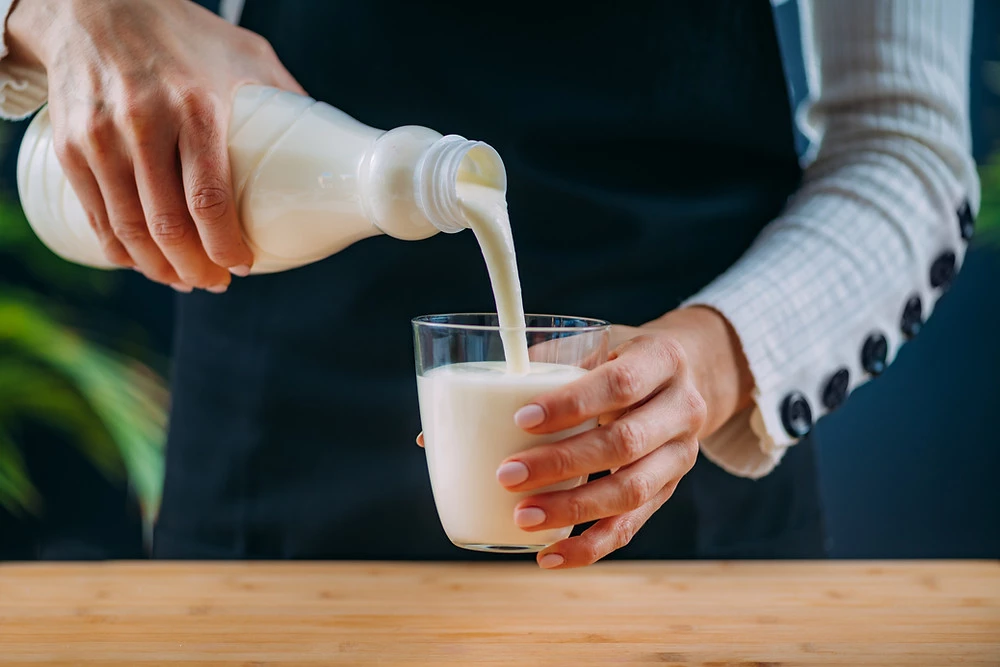 It is advised to drink probiotic beverages on a regular basis so that you always have good bacteria in your stomach.
5.   What Does Yakult Do vs What Does Kefir Do?
What Yakult vs kefir do is boost the immune system and promote digestion.
Both probiotic drinks come with utmost benefits and help the body produce good bacteria that are so powerful to fight cancerous cells.
People consume these drinks more to attain benefits than taste. Do you know what kefir tastes like?
Actimel vs Yakult
We know much about Yakult vs. kefir but do you know there are plenty of more probiotic drinks between which people don't understand the difference, for instance, Actimel vs Yakult?
Comparing Actimel and Yakult, the only difference we found was related to their origins. Yakult hails from japan, while Actimel was commercially launched in Belgium.
Both are fermented drinks and promote good bacterial growth in the family. However, these are not as natural in the recipe as Kefir.
The discussion doesn't end here. Here you go with some FAQs.
Frequently Asked Questions
Here are answers to some questions that will be occurring in your mind.
What is Yakult?
Yakult was invented in 1930 in japan as a fermented drink made with milk and other ingredients such as Lactobacillus casei Shirota bacterium.
Different brands now commercially manufacture and distribute this drink to promote stomach health. For this, only cow milk is used.
What is Kefir?
Kefir is also a probiotic drink that originated in the North Caucasus, and from there, it came to Russia. This is the most potent, fermented drink that can be made with any animal milk.
It contains 36 different types of good bacteria, and it is consumed to boost immunity and improve digestion, along with fighting issues like acid reflux.
What is Actimel?
Actimel isn't a very old drink and was invented a few decades ago. It was first commercially sold in Belgium. This is also a probiotic drink to promote the growth of good bacteria in your body.
Bottom Line
Here our discussion on Yakult vs. kefir comes to an end. We have discussed the drinks' benefits, nutrients, and nutritional value. A side-by-side comparison is made using tables and images.
We have got plenty of more literature to read on Probiotic drinks. Check-in at lookbroad.com to enjoy interesting reads about health, recipes, and much more.