People having sedentary lifestyles with little to no activity a day are prescribed with 80/20 Rule Diet by experts to avoid weight gain, promote weight loss, and maintain a healthy weight.  
Key Takeaways
The 80 / 20 diet is based on a simple formula: 80% healthy food consumption, and 20% have anything you like, even though others consider it unhealthy.
80/20 rule diet is for people with sedentary jobs.
You avoid nothing and can consume your favorite foods while following an 80-20 diet.
You will need to drink plenty of water.
How does the 80/20 Rule Diet Promotes losing weight without a workout?
"From big homes with yards, we have shifted to small apartments…
Our desktop jobs rarely require us to be active; besides, once we reach home, the tiresome never lets us do anything (exercise or workout).
The only thing we want is to eat food and sleep."
Due to this, we are putting on weight, feel sleepy or limp throughout the day, our skins look dull, and we don't feel healthy anymore…
We cannot afford big homes or leave our (sitting) jobs, yet our body is already tired to do any kind of workout…. The only way out is to experiment with our diet i.e. 80/20 Rule Diet.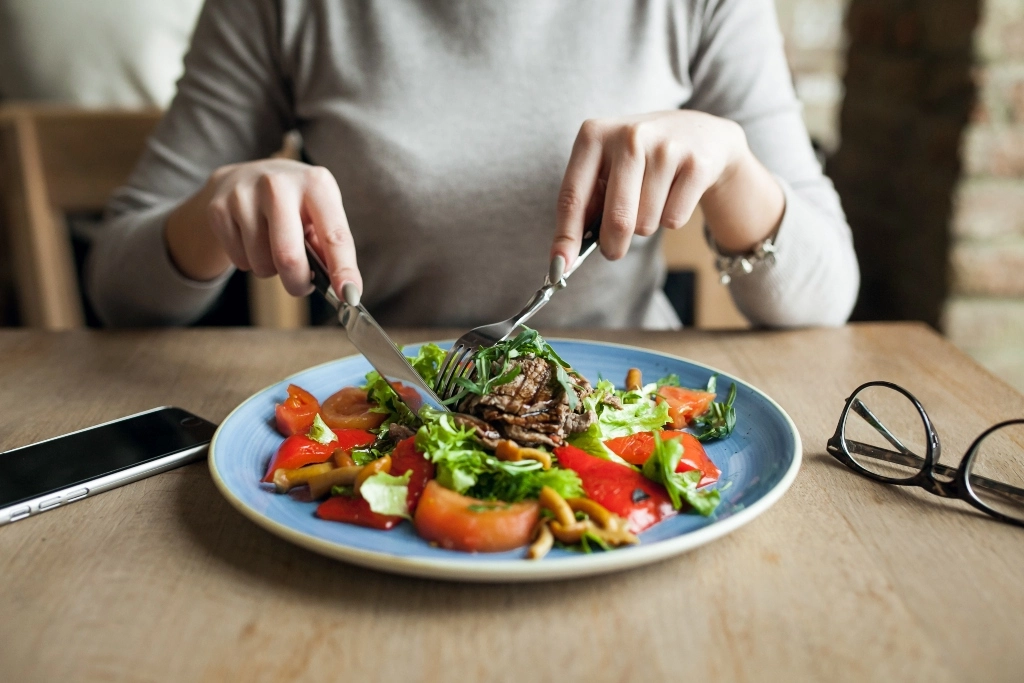 Many diet plans are offered to promote instant and fastest weight loss like celebrities, including:
However, all these plans require you to leave your favorite foods and drinks and regular high-intensity workouts. Diet with the 80/20 Rule is different.
What is The 80/20 Rule Diet?
80/20 is actually a rule from economics known as the Pareto principle. The law states that "80% of outputs depend on 20% of inputs."
Now, in the 80/20 Rule Diet;
80% represents 'Healthy food consumption.'

20% represents 'eating whatever you like, even unhealthy items.'
So, in the 80/20 régime, one can prepare their breakfast, lunch, dinner, or snack meals by picking nutriment items + their favorite foods (even the unhealthy ones) to promote weight loss.
So, when you ask What the 80/20 Rule Diet Is, we can say that it is more like a lifestyle than a regimen. By reading the rubrics in detail, you will comprehend this plan better.
80 20 Diet Rules for Weight Loss
This diet plan has some basic principles to promote weight loss with little to no exercise making it perfect for office goers and people with 'mostly-sitting jobs.'
The rules are:
80% food of your meal will come from nutrition-rich sources

20% of food depends on your favorite items, including sweets and sodas
Different people can have different definitions of what a healthy meal is. For instance, anything that isn't whole food can be unhealthy for some people.
No food is a not-allowed food here.

You can choose to follow this diet plan on a daily basis or a weekly basis.
Some people endure this regime on seven days basis in which for 5 days they eat healthy food while on weekends they consume whatever they want.
On the other hand, some people choose to do 80/20 rule diet on a daily basis in which they consume junk and nutrition every day in combination, considering the 'eighty and twenty ratios.'
You will drink lots of water.

No day is a cheat day.

No need to avoid chocolates, sweets, sugar, or things you call unhealthy otherwise

Keep a track of your calories

No need for strenuous exercises
As it is designed for inactive people with deskbound work, a walk between the rooms and departments is enough activity at home or office.
Once you know these rules, it is easy to construct your personal 80/20 weight loss regimen.
80/20 Rule Diet Plan
Before you design your diet plan, it is better to learn what to eat and avoid, following 80/20 eat clean diet rules. Let's check-in details:
80 What You Eat:
80% of your diet is based on:
Whole grains:
Whole grains and whole carbs are great sources of fiber. Besides, they also contain a rich sum of vita-nutrients like minerals, protein, vitamins, etc. Such as:
Brown rice: chicken and brown rice are one of the healthiest 80/20 Diet Plan Recipes to promote weight loss without starving.
Whole wheat: pasta, bread, or other things made of 100 % whole wheat.
Oats: Whole grain oats or oatmeal will be a great source of healthy foods to add to fulfill the 80% rule of your diet.
Quinoa: Use quinoa seeds raw, in drinks, and for dressing to meet your daily requirements.
Vegetables:
No diet is complete without a reasonable sum of greens in it. However, some vegetables can be weight-gaining and can cause bloating or gas. Avoiding that, here are some more on 80/20 Rule Diet:
Leafy greens: Kale, spinach, coriander, Swiss chard, arugula, mustard, or all other vegetables with leaves.
Root vegetables: Carrots, beetroot, reddish, etc.
Cruciferous veggies: Brussels sprout, broccoli, cabbage, cauliflower, collard greens
Fungi vegetables: For instance, mushrooms. However, these are not technically plants.
Fruits:
Low-sugar fruits can be eaten plenty, while high-sugar fruits can be among 20% per your 80/20 diet rules.
Berries: Blueberry, raspberry, acai, fresh currants, gooseberries, loganberries, and cherries
Citruses: Lemon, lime, fig, oranges
Melons: Cantaloupe, honeydew lemon
Pomes: Apple, pear
Lean proteins:
Low-saturated proteins free from bad fat and calories should be added to the 80/20 rule diet. Such as:
Lean meat: Beef, lamb, veal, pork, kangaroo, lean (lower salt) sausages.
Low-fat dairy: skimmed yogurt,  cottage cheese, skimmed milk, fat-free cream
Seafood: Cod, haddock, grouper, halibut, tilapia, and bass
Legumes: Dry beans, peas, and lentils,
Plant-based protein: Soy, chia seeds, hemp seeds, oats, quinoa
Good Fats:
Monounsaturated and polyunsaturated fats are known as the 'good fats' because they are enriched with immunity-boosting elements. You can eat:
High-fat meats: beef, pork, lamb
Butter:
Bakery: biscuits, cakes, lard
The list doesn't end here. Here we are adding the rest of the 20% options for your 80/20 rule diet.
20 What You Can Add:
Although this section is mainly based on the things and stuff you want to add to your meals. For a better idea and understanding of our users who follow our diet guides regularly, we are adding some more formation:
Refined carbs:
Refined carbs, in other words, known as bad carbs, are stripped from all nutrients such as fiber and bran. These are primarily found in processed food like white bread, pizza dough, pasta, pastries, and sweet desserts.
Sugar:
For the rest of 20% of your diet, you can consume sugar-rich foodstuffs such as sweetened teas and coffees.
Sodas:
Even sodas like zero coke source calories. However, as you are allowed to eat anything, you can consume soda, coke, or sugar-full sprinkling water.
Chocolates and Sweets:
Snack on your favorite chocolate flavors, and eat candies and sweets in moderation to lose weight without undermining the taste of your meals.
Sweetened beverages:
Juices, shakes, smoothies, Starbucks sweetened beverages, and alcohol can be consumed.
Before moving further, here we are adding a sample 80/20 rule diet plan so you can have a better idea of how to manage this regime.
It is for people who follow an 80/20 diet daily:
Summer vegetable omelet

Salad made with spinach and radicchio

Warm bacon dressing

Sourdough turkey sandwich

Chocolate chip cookies

Milk

Pineapple salsa

Chicken thighs
You can consume this food for a day. Divide it into different meals and snacks according to your preference.
If you are following the 80/20 rule diet on a weekly basis, you can eat cakes, do drinking, and consume whatever you want on weekends.
Who Can Follow 80 20 Lifestyle?
Anyone can follow 80 20 Lifestyle. The regime is intended to promote healthy eating habits without compromising on taste.
So, everyone can follow.
It will be especially beneficial for people who are not much active in their lives.
What if 80/20 Diet Rules Don't Work for You?
Some people have reported not getting any benefit from the 80/20 rule diet. Why is that so?
Eating healthy food in plenty will cause you to consume more calories than you need. So, sometimes, people forget to count calories while cleaning and eating.
Keep track of your calorie consumption, make a weight loss goal in this regard, and adjust your calorie intake accordingly.
This rule will apply to 80% and 20% portions of your regimen. For instance, if your calorie count is 1000 to 1200, 80% will come from organic meals while 20% from refined stuff.
80/20 Diet Plan Recipes
Click here to read the complete 80/20 Diet Plan Brown rice and chicken recipe. This recipe promotes weight loss and a healthy lifestyle.
80/20 Rule Diet, How to Calculate?
If you don't know how to calculate calories. Check our Dr. Procter Diet Plan. At the bottom of this article, all the ways (calculating formulas and methods) are added so you can count your calories.
How Long Should You Follow A Diet Plan?
When it comes to a diet plan like keto, where you are hindering various nutrients, you shouldn't follow it for more than 90 days.
However, the meal plans like the 80/20 rule diet can be followed until you reach your desired weight goal. After that, you will just have to manage your calories.
Bottom Line
Here our discussion on the 80/20 rule diet comes to an end. For more information, you can send us your queries for free.