Whenever a new option to drink or eat comes in front, for instance, Crystal Light, the first thing that comes to mind of a keto dieter is Crystal Light keto friendly, right?
It is very good to be conscious about what you consume during the day when following particular weight loss plans such as the keto diet.
Key Takeaways
Crystal light comes in powder form, offered to enjoy flavored water, and available in different fruity zests.
Crystal Light has 0 carbs which makes it keto friendly, technically, but it is not a healthy option to gulp on regular basis.
One serving of Crystal Light will not kick you out of ketosis, but to enjoy flavored water, you should switch to healthy alternatives.
Crystal Light is a gluten-free powdered beverage, available in plenty of fruity flavors, developed by Kraft Foods. The powder comes with the idea of helping weight loss and letting people enjoy healthy living with vibrant flavors.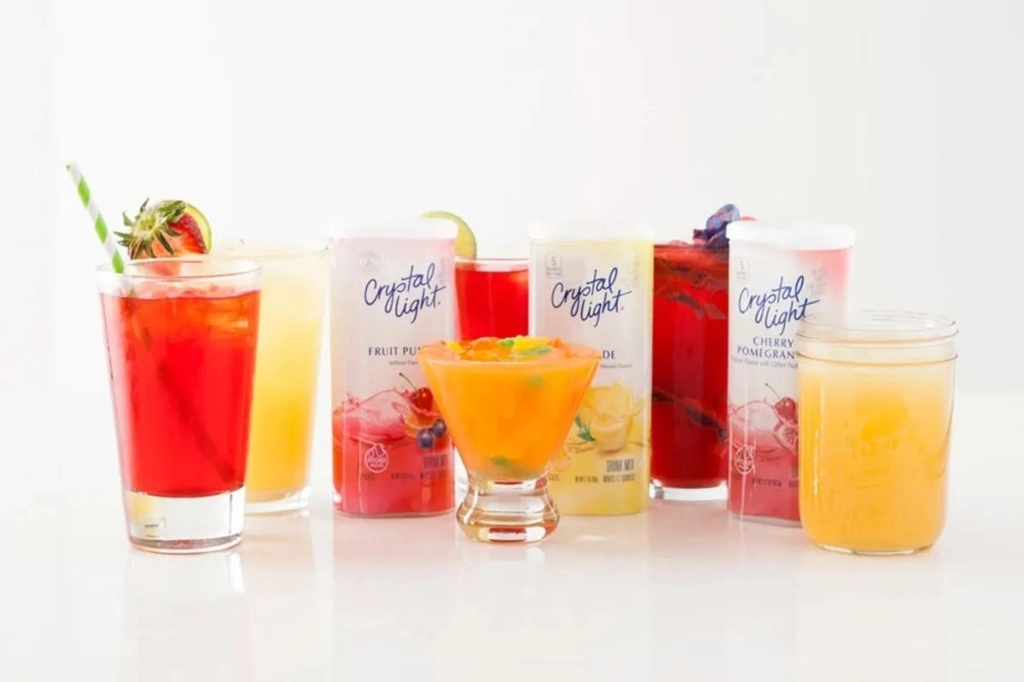 But is Crystal Light as healthy as it claims, and can you drink Crystal Light on keto are some questions that need explanations?
This content is going to answer all the queries indulging your mind's confusion about the artificial drink Crystal Light. We have also covered the health benefits and side effects of GFuel, Monster, and Coke Zero.
So, let's start our today's discussion, is Crystal Light keto friendly, and can you drink it on a keto diet without harming your health…???
Is Crystal Light Keto Friendly?
There are three major keto macros. Fats, proteins, and carbohydrates. Fats should be the most part of your diet, then protein, fiber, and the minuscule portion are allocated to carbs.
Carbs in Crystal Light:
Looking at the macro ingredients, we can say:
Crystal Light is a keto-friendly drink: It contains 0 grams of carbs.
Other Keto Macronutrients in Crystal Light:
0 grams of proteins and only 10 calories per serving.
Moreover, on a per-serving basis, you find:
10 calories per serving

0 grams of fat
But, as you need to consume proteins in an optimum amount when you are on a keto diet, can you drink Crystal Light on keto when it has no protein content? And what about health hazards?
Let's dive deeper into our discussion is Crystal Light keto friendly before concluding whether you should drink it on a keto diet.
Can You Drink Crystal Light on Keto?
We have seen the macronutrients of Crystal Light and found it technically a ketogenic diet.
However, due to other micronutrients and ingredients, drinks with artificial flavors are not recommended by health experts whether you are following a keto diet or not.
First of all, this is true,
"One serving of Crystal Light will not kick you out of ketosis."
But… micronutrients such as chemical ingredients and artificial additives make it not a very healthy drink to sip on, on a regular basis.
So, you can say that Crystal Light is keto but not healthy…
Still, we will explain some more factors before you decide to drink it on a keto diet.
Crystal Light and Keto
People switch to a ketogenic lifestyle to reduce their physical inflammations, beat heavier weight, and lose pounds and inches faster to feel slimmer yet healthier.
Low-carb diets are followed. However, Crystal Light, along with having a reduced amount of carbs, contains Aspartame (an artificial sweetener), which is extremely bad for health.
So, when you say is Crystal Light keto friendly, we can simply answer yes but drinking it on a ketogenic lifestyle is not healthy because other ingredients will keep you from enjoying the health benefits.
You might end up with Crystal Light side effects like nausea and diarrhea (we will explain in the following lines).
Is Crystal Light Good for Weight Loss?
Without looking at the internal chemical enriched ingredients and the processed elements of Crystal Light, we can say that it has just 10 calories per pack, so obviously, it is suitable for weight loss.
Theoretically, a person trying to lose weight has to consume fewer calories. A person following the keto diet for weight loss will also get a positive answer for is Crystal Light keto friendly because of the low carb content.
However, you should ask if, in the long run, Crystal Light is a healthy drink for weight loss. We cannot be so optimistic about this.
Crystal Light Diet:
Crystal Light comes in powdered form, just link tang, and is used to flavor water, available in different zests cherry pomegranate, orange, lemonade, kiwi strawberry, and raspberry lemonade.
It is sold in different sizes, regular ones, Crystal Light on-the-go small sachets, and Crystal Light pure, which are supposed to have fewer artificial flavorings.
Crystal Light Ingredients:
In all flavors and variety packs, Crystal Light has many processed, rather harmful, yet chemical ingredients. It can be extremely sweet, for which artificial sweeteners and inorganic high-carb sugar are used.
Aspartame, sucralose, and Acesulfame potassium, aka Ace-K, are artificial sweeteners inside Crystal Light.

Some varieties might also contain regular sugar.

Artificial colors

Inorganic preservatives

Citric acid

Calcium phosphate, m

Maltodextrin
Keep reading before you decide is Crystal Light keto friendly and consume it due to its low-calorie content.
Ascorbic acid (vitamin C),

Maltitol

Cellulose gums

Soy lecithin

Artificial color

Yellow 5

Red 40.
These non-organic and non-natural ingredients can be terrible for your health when consumed regularly, whether you are on a weight loss diet, following a ketogenic regimen, or simply trying to bust the boredom of simple water.
Crystal Light Side Effects
Looking at the ingredients of this powdered water, we can assume the harmful impacts it can bring on our life. Let's name some for your help:
1.   Mental Health Issues:
It can cause headaches, be reason for dizziness or depression, make you feel fatigued, can cause irritability and anxiety, and even be the reason for memory loss.
2.   Gut Health Issues:
Is Crystal Light keto friendly? Yes, but inorganic elements can cause digestion issues, disruption to medication absorption, stomach pain, nausea, vomiting, diarrhea, and weight gain when consumed regularly.
3.   Physical Issues:
Joint pain, even possible loss of taste, can cause rashes like keto rash. It can also increase the amount of harmful inorganic carbs in your body and cause health issues.
4.   Chemical Imbalance:
You might experience increased production of certain chemicals in the body, for example, tyrosine, dopamine, norepinephrine, epinephrine, and melanin.
5.   Death:
If certain ingredients react and become intolerable for the body, severe damage can result in brain damage or even death.
Healthy Subs to Crystal Light
To not be a victim of Crystal Light's side effects, you can try some healthy alternatives for the drink, such as:
1.   Kombucha:
Fermented drinks are a new way to shed some extra fat without losing necessary body oils and letting your body suffer for essential nutrients. Kombucha makes an excellent fizzy drink with no side effects.
Find ➔ How to Drink Kombucha for Weight Loss without Kicking Yourself Out Of Ketosis
2.   Leek Soup:
Leek soup is a famous French soup anyone can enjoy when looking to shed more pounds in less time and don't want to drink plain water.
Find ➔ All About Magic Leek Soup Diet
3.   Lemonade:
Add some drops of lemon to the water before sipping in order to enjoy a healthy flavored drink without any harmful health effects.
Find ➔ Lemon Juice Benefits for Women
4.   Detox Water:
Detox water helps you alter your living style. It makes the perfect fizzy drinks or flavored water using natural ingredients to lose fat, and belly fat, when on a ketogenic diet.
Find ➔ All About Detox Water for Body Cleansing
5.   Kefir:
Kefir is also a kind of fermented drink. It has reached us from the oldest recipes of ancient Turkish women. It makes tasty flavored drinks.
Find ➔ Best Kefir
Findings
From the above discussion, here are some findings we have gathered, on which basis you can decide whether to drink or not drink Crystal Light on the keto diet.
Is Crystal Light keto friendly? Yes! It has 0 carbs.

It contains some extremely health-hazardous elements.

Some irreversible damages are caused by inorganic chemicals used in the formula.
Conclusion
Consuming Crystal Light regularly is not recommended whether you are on a ketogenic diet, on a weight loss diet, or simply drinking it for fun.
You can have some sips and dips for fun once a month but consume just one small sachet pack and do not overdo the quantity.
If you really want to enjoy flavored water or fizzy drinks, use some healthy alternatives such as Kombucha tea, coffee, detox water, lemonades, and Leek Soup. 
These drinks are flavored and come with no side effects.
Bottom Line
Here, our discussion on is Crystal Light keto friendly comes to an end. We have added all about Crystal Light in this content, such as how it is made, its ingredients, and its flavors.
We have also added a list of harmful effects it might bring to your health. Therefore, we have concluded that drinking Crystal Light on the keto diet is not safe and healthy.
You should avoid drinking it on regular basis and go with healthy alternatives instead.